Facebook is moving into the public real estate market in an effort to temper criticism of the tech industry's impact on housing in Silicon Valley.
The company announced this month that it would build at least 1,500 housing units in Menlo Park, California, where Facebook has its headquarters, The Wall Street Journal reports. But the residences won't be reserved for Facebook employees ― they'll be for the public.
Fifteen percent of the units would go to low- and middle-income families, per the Journal.
"Facebook is committed to being a good neighbor," a company spokesperson told The Huffington Post. "We understand that our growth affects the everyday lives of our neighbors, and we want to be respectful and thoughtful about how we approach our expansion."
Tech giants in Silicon Valley have sowed resentment among locals who feel they're being squeezed out of their homes to make way for highly compensated employees at firms like Google and Facebook. In San Francisco, which is just north of Silicon Valley, rents are among the highest in the country, and affordable housing is disappearing.
With its new building plan, Facebook hopes to address some of the housing crises that have, in part, been exacerbated by its presence.
"There is a lack of housing in the area," John Tenanes, who oversees Facebook's real estate projects, told the Journal. "The intent here is to make an impact."
The announcement could also be seen as a concession to critics who oppose Facebook's planned headquarters expansion in Menlo Park. The company is set to add two office buildings and a 200-room hotel to house 6,500 new employees.
The million-square-foot expansion doesn't have many fans among locals. Residents of the neighboring East Palo Alto have seen rents skyrocket and are increasingly being pushed out of the area, taking cheaper homes farther away and lengthening their daily commutes.
"Facebook is coming in and bringing along all these rich folks," one resident told The Guardian. "They're able to afford our housing, because it's nothing to them."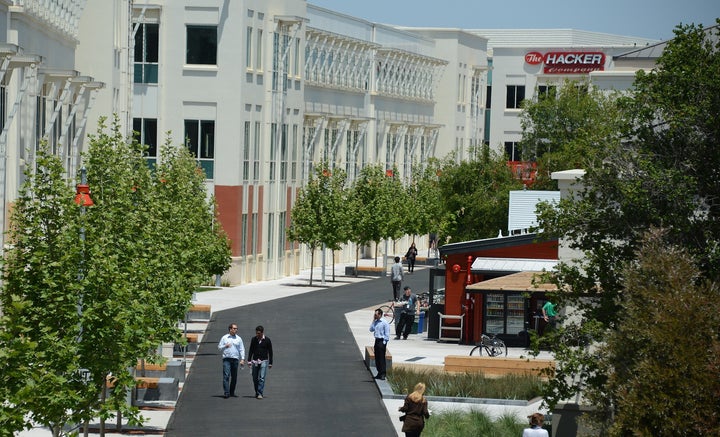 Local advocates in East Palo Alto say that the expansion of tech companies will only increase housing prices and further stratify the population.
Some want to see tech firms invest in affordable housing or find other ways to alleviate the problems they helped create. In San Francisco, officials have proposed levying a payroll tax on tech companies to mitigate local housing and homelessness crises.
Companies like Google and Facebook haven't been "paying their fair share," Eric Mar, a member of San Francisco's Board of Supervisors who introduced the proposed tax, told The New York Times earlier this month.
This story has been updated with a statement from Facebook.