 Enjoy chatting with your Facebook friends on your phone? Well if you'd like to continue to do so, you'll soon be forced to download an entirely separate app from Facebook's current one.
Yes, it's true: Facebook is planning to disable messaging in its main apps for the iPhone and Google's Android and demand its users download Facebook Messenger, an app dedicated solely to chatting with friends.
The company confirmed the decision to The Huffington Post in an email.
"We are starting to notify people this week and will be rolling this out on Android and [Apple's] iOS to a handful of countries over the next couple of weeks," a Facebook spokesperson wrote Wednesday. (This week the company notified some European users that soon they will be unable to message with the main Facebook app.)
Facebook claims splitting off its messaging service benefits customers, since people get messages 20 percent faster on a dedicated messaging app. And Messenger, introduced in November, already ranks among the top free iOS and Android apps.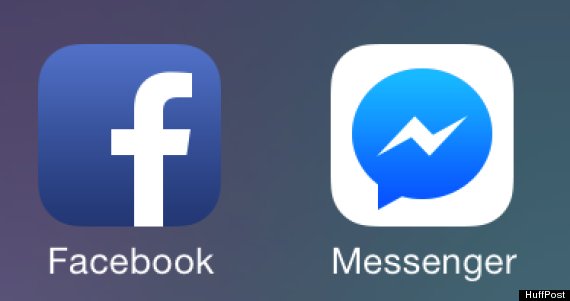 Two is better than one, according to Facebook.
Even if you prefer Snapchat, iMessage or anything else not owned by Facebook, you're pretty much compelled to use Facebook's messaging service since so many of your friends use it too. Facebook knows this, and it is leveraging its stranglehold on your social life to draw you deeper and deeper into its orbit, all to show you more ads.
The move is just the latest by Facebook and its CEO, Mark Zuckerberg, to dominate your smartphone screen. And while it's had little success beyond Messenger in developing its own apps -- perhaps best symbolized by Poke, the company's unsuccessful Snapchat clone -- the company has made its self an acquiring machine with the purchases of WhatsApp this year and Instagram in 2012.
Your phone's home screen only fits a finite number of icons. If yet another one of them is owned by Facebook, that's all the more time you'll spend under its umbrella.
Calling all HuffPost superfans!
Sign up for membership to become a founding member and help shape HuffPost's next chapter