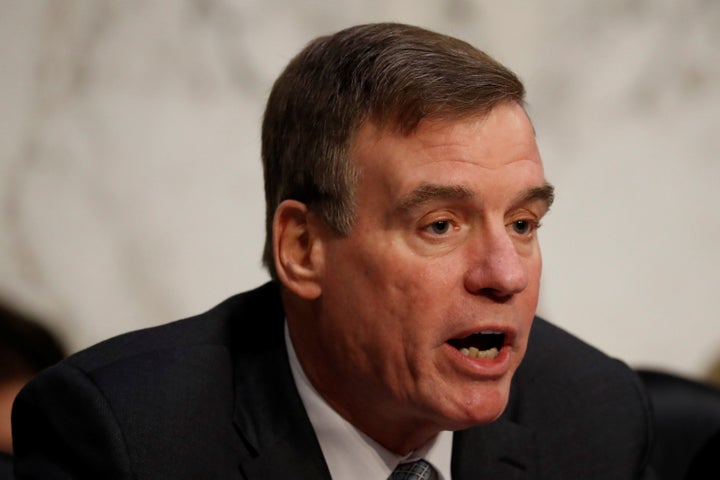 "I don't think Facebook has been fully forthcoming," Warner said Sunday on NBC's "Meet The Press." "I called out Facebook back in December of '16. In the Spring of '17, I questioned micro-targeting and the use of this really sketchy firm Cambridge Analytica. Early on for most of 2017, they blew that off."
The social media giant recently confirmed that Cambridge Analytica, a British voter-profiling firm with ties to Donald Trump's presidential campaign, harvested private data from millions of Facebook users in 2016. Last week, Facebook CEO Mark Zuckerberg finally apologized for his company's role in the breach and said it was taking steps to protect user data going forward.
Warner, who is helping probe Russia's alleged involvement in the 2016 presidential election, said that it may be necessary to regulate large social media companies like Facebook going forward.
"All of these social media companies have said they have no responsibility for any of the content," Warner said. "I think we have to relook at that. I think in many ways they're media companies."
While Democrats have been critical of Facebook and its role in the 2016 election, calling on executives like Zuckerberg to testify before Congress, they do not have the power to compel him to do so.
Senate Judiciary Chairman Chuck Grassley (R-Iowa) on Monday invited Zuckerberg to testify at a hearing on April 10 to discuss "Facebook's past and future policies regarding the protection and monitoring of consumer data." Grassley also announced he had invited Google CEO Sundar Pichai and Twitter CEO Jack Dorsey to discuss the future of data privacy in the social media industry.
Senate Intelligence Committee Chairman Richard Burr (R-N.C.) hasn't called on Zuckerberg to testify.
Zuckerberg took out full-page ads in several American and British newspapers on Sunday to apologize for the "breach of trust" in the scandal.
"This was a breach of trust, and I'm sorry we didn't do more at the time. We're now taking steps to ensure this doesn't happen again," read the ads.
Warner dismissed Zuckerberg's gesture on Sunday and reiterated his call for the Facebook founder to testify before Congress.
"I think Mr. Zuckerberg needs to come and testify before Congress, not just put an advertisement in the newspaper," Warner said. "He said he would if he was the guy, he is the right guy. He can't send a staff. When I'm called upon on an issue, it's my name on the door. I mean you wouldn't take a staff member here on your show representing me."
"He needs to come testify before Congress and explain how they're going to work with us to both protect privacy; there are 50 million Facebook accounts that were used by this sketchy firm, Cambridge Analytica, and how we're going to make sure it doesn't happen again in terms of weaponization of these social media platforms," he added.
This article has been updated to reflect that Grassley has invited Zuckerberg to testify.
Popular in the Community