 This post is part of a new series from HuffPostTech, Socialized, that will profile a different social startup--from apps to services to websites--every day. Want to be featured on the site? Email us about your startup, which should have a social media component and be less than two years old, at bianca@huffingtonpost.com.
"You like someone. They're in a relationship. Be the first to know when they're out of it."
That's the tagline for Breakup Notifier, an amazingly simple way to keep tabs on that special someone--who happens to be dating a special someone else.
What it is: Jumping off of Facebook, Breakup Notifier lets you log in, check off the friends you're interested in, and then emails you once they're no longer taken.
How it works: Program developer Dan Loewenherz explained the idea to the Huffington Post in an email:
I got the idea on Friday night when my fiancee and her mom were talking about a guy to set up with my fiancee's sister. Unfortunately, said guy was taken...so I asked them if they would want to get notified when he broke up. It was kind of a joke actually, but they loved it, and so on Saturday I spent about 4 hours building it out. I didn't really tell anyone until yesterday.

I hope that people use it for good and not evil--it's merely practical. If you're going to check someone's profile every day, you might as well get rid of the tedium and have the changes get delivered right to your inbox instead. When people don't list their relationship status, Breakup Notifier reads it as "Unknown". So if someone changes, you'll get an email like the following:
"Hi Shirley,

Joe Shmoe has changed his relationship status to "Single" from "In a relationship". Get on it!

Best,
The Breakup Notifier"
According to a post on YCombinator, Loewenherz used Google Appengine, Django, and the Facebook Graph API to build the app, which checks for breakups every ten minutes.
Why you'd use it: Basically, Breakup Notifier takes out the tedious, vaguely depressing legwork of persistently clicking on the profile of someone you wish wasn't in a relationship on the off-chance that the 60th time you do it, they won't be. Instead, it checks for you, and only lets you know when indeed, the change you so dearly sought has come to pass.
Breakup Notifier has one application, so far -- it tells you when someone has broken up with their boyfriend/girlfriend/wife/husband/etc, as long as the breakup happens on Facebook.
One commenter on the YCombinator thread said, "This is the most pointless, trivial, absurd, creepy app I've seen in a while," going on to add, "Signed up. I think it will be massively successful!"
Why would you use Breakup Notifier? Why do you use Facebook? Just remember the scene in The Social Network where movie-Mark Zuckerberg dashes out of the computer lab to tinker with one, final thing on the program--relationship status.
Or, look at this story from another commenter: "great idea. this is actually how my wife and i met. no joke. i had just ended a long relationship and changed my status on facebook. she noticed and started messaging me."
How to get it: Visit Breakupnotifier.com to see the service for yourself.

Tell us what you think:
Take a look: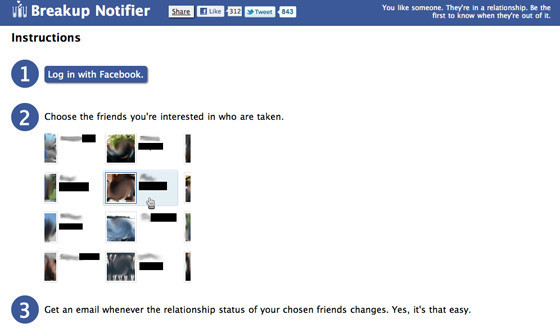 Popular in the Community