Photographer and mom Jade Beall has made a name for herself taking portraits that celebrate the beautiful imperfections and body diversity of real women, especially mothers. One recent breastfeeding photo incident was a disheartening reminder that that many Facebook users are not on the same page.
Because her photos typically feature nudity, Beall blurs the body parts that are not allowed on Facebook when she shares them on her page (the site's standards specifically state that breastfeeding photos are allowed).
Beall told The Huffington Post that one night last week, she posted a group photo of seven mothers breastfeeding their babies -- one of her favorites. The image had thousands of likes and shares within hours.
Though she was pleased to see that so many of her 75,000 followers "loved" her photo, Beall also received a flood of negative comments calling it "disgusting" and several messages from people, mostly men, requesting that she remove the image.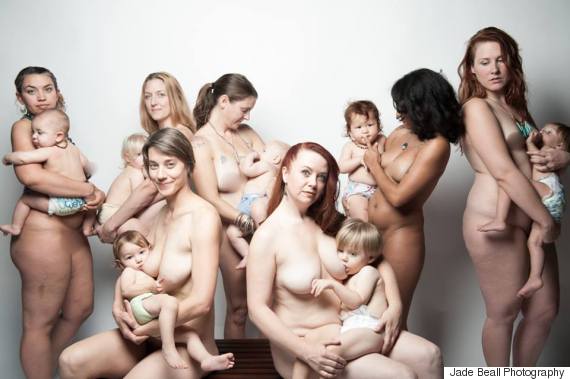 After the photo had been on the page for almost 24 hours, someone reported it because Beall had forgotten to blur one of the nipples. Having been banned from Facebook several times in the past, the photographer quickly deleted the photo and replaced it with one that blurred the one nipple she had overlooked. As of Thursday afternoon, that image, which you can see above, remains on her page.
Beall doesn't blame Facebook for what transpired, but rather the culture that the social media site reflects. "Facebook allows what Americans deem 'acceptable behavior,'" she said, pointing out the hyper-sexualized images of naked women and other "truly disturbing" things that seem ubiquitous on social media.
"When we see a woman with the untypical body type feeling empowered and vulnerable to pose for an artist, it's like somehow I break the rules of what is acceptable for how much skin a woman 'should' show," the photographer continued. "And to show her allowing her breasts to be used in a completely un-sexualized manner, that really rocks the boat."
Back in July, a different photographer Ashlee Wells Jackson campaigned for Facebook and Instagram to "stop censoring motherhood" after her images of moms breastfeeding were repeatedly removed. At the time, a Facebook representative told The Huffington Post that each flagged photo is evaluated by an employee. And there is certainly room for error. "It is very hard to consistently make the right call on every photo that may or may not contain nudity that is reported to us, particularly when there are billions of photos and pieces of content being shared on FB everyday, and that has sometimes resulted in content being removed mistakenly," the spokesperson said.
The backlash from users won't stop Beall from taking more nude and breastfeeding photos that empower women. "I love seeing a room full of diverse bodies feeding their babies, the very bodies that made and gave life to the babies!" she said.
Like Us On Facebook |

Follow Us On Twitter |

Contact HuffPost Parents
Related