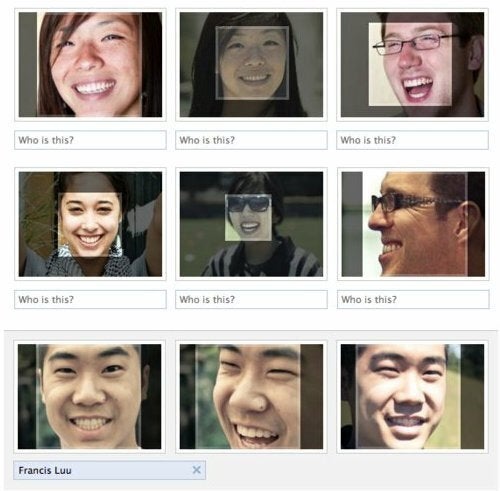 Prepare for Facebook to be a whole lot more in your face.
Facebook announced Monday that it will acquire facial recognition firm Face.com, an Israeli company that has worked with the social network for nearly two years to identify and tag people in uploaded photos.
Integrating Face.com's facial recognition capabilities into Facebook marks an effort to encourage even more photo sharing on the social network and, further down the road, could yield new advertising opportunities or even features that bring facial recognition to the physical world, experts say. That extra convenience, tagging photos based on friends' faces, whether on a smartphone or laptop, is also likely to bring a fresh round of privacy concerns over the limits of Facebook's reach into its users' lives.
"Today, facial recognition for Facebook is about photographs. But future uses of this technology could absolutely extend to recognizing people in the real world," said Forrester analyst Sarah Rotman Epps. "Facebook is becoming a search engine for people. It's building a catalog of humans, and today that's a two dimensional experience. Tomorrow it will take place in the physical world."
Facebook declined to specify how it will integrate Face.com's team and technology into its offerings. A spokeswoman for the social network told The Huffington Post in an email, "People who use Facebook enjoy sharing photos and memories with their friends, and Face.com's technology has helped to provide the best photo experience. This transaction simply brings a world-class team and a long-time technology vendor in house."
For Facebook, an uploaded photograph is good, but an uploaded photograph that's been tagged is even better: It's more likely to be seen by a greater number of people, and in turn helps Facebook provide the up-to-the-minute personal information that keeps users returning to the site. The visibility of photos depends on a user's privacy settings, but generally speaking, if my friend Jason uploads a photo of me and doesn't tag me in it, only Jason's friends will be able to see the image. On the other hand, if Jason tags me in the picture, friends of mine who don't know Jason will see the image of me in their News Feed.
But these tagging features aren't yet as robust on Facebook's mobile app, where U.S. users are spending more time accessing the social network and where tagging is even more labor-intensive. Experts say the acquisition will yield new tools that would make it simpler for members to tag their friends in photos -- particularly those uploaded from mobile phones -- and would ensure activity on the site stays high.
"The low-hanging fruit here is removing restrictions from photo uploads and enabling people to upload photos more quickly and make those photos more contextually relevant to their network and anyone depicted in those photos," said Altimeter analyst Rebecca Lieb. "While it [facial recognition technology] definitely has desktop advantages, I see it largely as something to remove friction from mobile updates. Facebook is aggressively trying to move into mobile and improve consumer experience, while also monetizing it with ads."
Face.com's facial recognition capabilities might also eventually be used to tag objects or brands in photos, which could open up new sources of advertising revenue.
Forrester's Epps notes that some companies are already using facial recognition technology to identify clothing in images posted online, and Facebook might wield Face.com's technology to tag brands and retailers shown in users' pictures. In 2011, Facebook gave users the ability to tag brands in their photos. That could evolve into a tool that automatically tags Coca-Cola cans or Levi's jeans as a way of increasing visibility for Facebook advertisers.
"Facial recognition technology like Face.com's is literally about faces. But that same kind of graphical analysis can be applied to anything," Epps said. "Facebook will stay core to its people focus, but it could potentially branch out to shopping, for example."
The social network could also use Face.com to help us find our friends. Facial recognition technology might be used to build an image-based search engine where users could search for each other with photos, rather than names, Lieb says. And in the long run, Facebook could even integrate facial recognition capabilities into wearable technology, enabling users to assume Terminator-like capabilities and identify people just by looking at them. Imagine being able to call up a stranger's Facebook profile on your Google Glasses or Apple iSpecs as you shake hands for the first time. According to Epps, that kind of technology may not be too far off.
"We could see intelligent recognition where you don't have to go to Facebook, but instead you have an app that follows you through the real world," Epps said.
Apple and Google have integrated the technology into their own photo offerings, iPhoto and Picasa respectively, though doubts persist about the implications of facial recognition.
Popular in the Community