A few days ago a petition popped up on the website Change.org urging Mark Zuckerberg to "support freedom of expression in India" by unblocking an atheist Facebook group there with over 13,000 members.
Facebook, the petition said, had not given any reason for the blockade. One day users in India who tried to visit the site were simply hit with a message that the content was "unavailable." This was not the first time a Facebook page for atheists had been censored in the secular state. In June, another atheist Facebook group was reportedly labeled "unsafe" and its members were unable to share its content.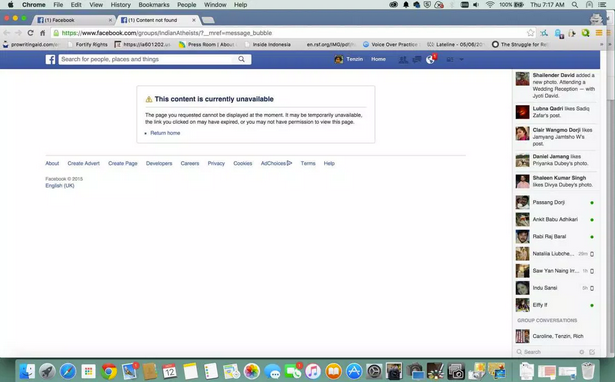 After I inquired with Facebook about the block of Indian Atheists Debate Corner and pointed them to the petition, the page was restored for Indian users, its blockage chalked up to a mistake. The same thing happened earlier this year—after the Indian newspaper The Hindu reported on the restrictions, Facebook lifted them.
It's not clear whether the atheist groups were flagged by fellow Facebook users as inappropriate or if they were among the more than 15,000 pieces of content restricted by Facebook in the first six months of the year at the request of government officials in India. According to Facebook's transparency report released earlier this week, it censored the postings of thousands of Indian Facebook users because they were "anti-religious" or contained "hate speech that could cause unrest and disharmony within India."
Facebook would only say that the Indian Atheists Debate Corner was blocked after a reviewer found it violated Facebook rules. After examining the page again as a result of my inquiry, Facebook decided the page did not violate its rules.
It's a reminder that Facebook censors, as The Economist wrotelast year, "operate under a cloak of anonymity, with no accountability to users." It is often unclear why one piece of content is removed, while another is not. But in failing to better scrutinize take-down requests and their legal underpinnings, Facebook has unwittingly contributed to a long-standing culture of religious persecution and censorship in India.
And this will probably not be the last time. Religious expression in India is complicated. Under the Indian Constitution, freedom of speech is protected, but with many exceptions. To wit: sections 295 and 153A of India's Penal Code outlaw insulting religions, as well as provoking animosity between different religious groups.
The laws are often cited as ways to control sectarian violence, but at times they have also been used as modes of persecution against religious minorities such as Christians and atheists. In one particularly well-known example, in the 1990s the artist MF Husain was charged after painting Hindu gods and goddesses naked. (Husain fled the country, and while the charges were eventually thrown out, he never returned.)
In overwhelmingly religious India, atheism can be viewed as an assault on religion. In the most recent Indian census, six major religions were listed as choices but no secular option was included at all.
So Facebook finds itself in a strange place. Often, atheists in India turn to social networks like Facebook because it's one of the few "safe" places for discussion. And it should be. In March of this year, India's Supreme Court struck down India's most stringent Internet censorship law, which made posting "offensive" comments on social media a crime punishable by up to three years jail.
Many of the laws in India applied to online comment are outdated, relics of a colonial government with no interest in free speech. But Facebook's approach to censorship feels a little out of date, too.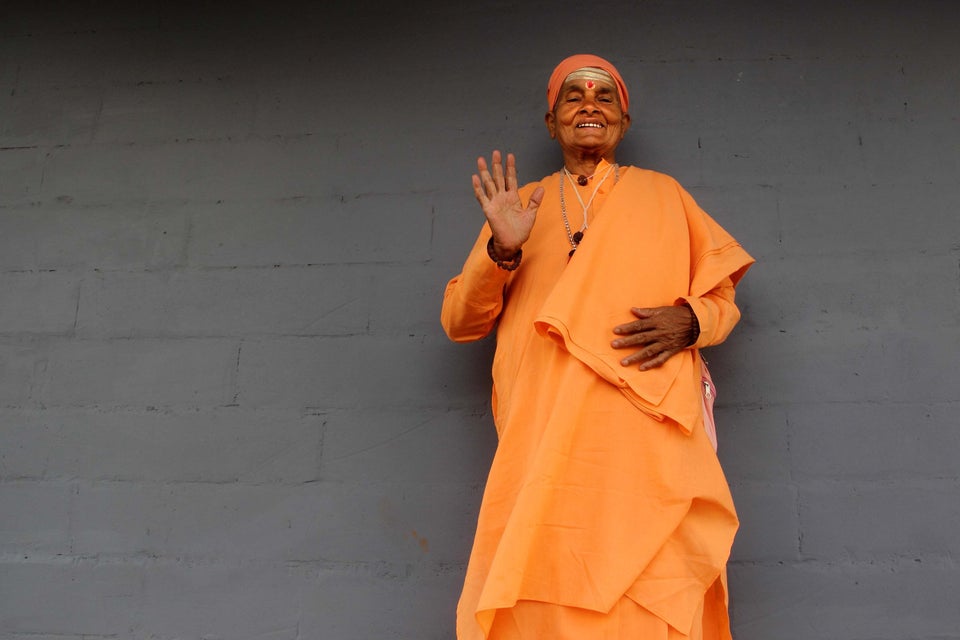 India's Extraordinary Kumbh Mela Festival
Related
Popular in the Community