A disturbing report by WND's Chelsea Schilling uncovers what she calls the "dark underbelly of Facebook," a community of members who blatantly promote and share child pornography using their personal Facebook accounts and Facebook groups. To be sure, while the content can be found on Facebook, it was posted by third-party users of the site and violates Facebook's terms of use.
Through alias Facebook profiles, which were used to friend suspected pedophiles and child predators, WND found dozens of child porn pictures and identified predator communities. Schilling's report even lists the names of 19 different Facebook groups and likable pages currently or previously available to the public; among them are groups like "PTHC," or preteen hard-core pornography, and "12 to 13 Boy Sex."
The majority of the 19 groups mentioned by Schiller no longer appear to exist; however, six groups, including "Gangbanging," "Incest" and "Bl-wjob Fan Page," have the same names as those Schillings found and are currently active. We even discovered a few that weren't on Schillings' list but had similar, disturbing names. For example, the page shown below was easily found on Facebook, has acquired a number of "Likes" and has featured only three posts since its creation in October 2010. (You can read the rest of Schilling's alarming report here.)

While Schilling's findings are troubling, to say the least, unfortunately, this is far from the first time Facebook has been used to share and promote child pornography.
As recently as May 2, Pennsylvania teen Neil Geckle was arrested for downloading photos of female minors off of Facebook, digitally editing an image of genitals into them and then reposting the edited pictures onto the girls' Facebook profiles.
However, while child pornography is still an unfortunate problem for the social network, Facebook has been taking steps to weed out the offenders.
"You will not post content that: is hateful, threatening, or pornographic; incites violence; or contains nudity or graphic or gratuitous violence," the statement reads in part.
UPDATE: A Facebook rep has provided the following statement regarding this issue:
Nothing is more important to Facebook than the safety of the people that use our site and this material has absolutely no place on Facebook. We have zero tolerance for child pornography being uploaded onto Facebook and are extremely aggressive in preventing and removing child exploitive content. We scan every photo that is uploaded to the site using PhotoDNA to ensure that this illicit material can't be distributed and we report all instances of exploitative content to the National Center for Missing and Exploited Children. We've built complex technical systems that either block the creation of this content, including in private groups, or flag it for quick review by our team of investigations professionals.

We've worked with the National Center for Missing and Exploited Children and the New York State Attorney General's Office in the U.S., as well as the Child Exploitation and Online Protection Centre in the U.K., to use known databases of child exploitive material to improve our detection and bring those responsible to justice.

We feel we've created a much safer environment on Facebook than exists off-line, where people can share this disgusting material in the privacy of their own homes without anyone watching. However, we're constantly refining and improving our systems and processes and building upon our relationships with NCMEC and law enforcement agencies specializing in child protection to create an even safer space.
Among its efforts to keep child pornography off its site is Facebook's longtime partnership with New York's Attorney General's Office, first forged with Andrew M. Cuomo back in 2007. The social network currently uses a database created by the New York Attorney General's Office, which contains the numerical fingerprints, or "hash values," of more than 8,000 child pornography photos, to prevent the spread of these images on the site.
According to Facebook, if an account is suspected of involvement in "illicit activity," such as child pornography, the site investigates "associated objects (groups, Pages, and images etc.) and associates." In addition, all accounts that have been disabled, removed from the site or found to be involved in child pornography activity are preserved in order to aid law enforcement officials should an investigation ensue. The site often brings up such cases with both domestic and international law enforcement to further help in apprehending and convicting those behind the activity.
What do you think of Schilling's findings? What kind of steps do you feel Facebook should make to fix this problem? Share your thoughts with us in the comments!
Related
Before You Go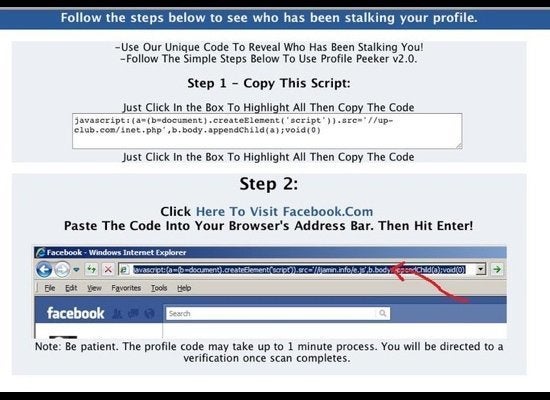 9 Common Facebook Scams
Popular in the Community