In a blog post published Monday, research scientist Khalid El-Arini and product specialist Joyce Tang, who both work for the company, wrote that Facebook is working to better identify and downplay stories that implore you to click through to find out more, then offer a disappointing return.
The social networking site decided it was time to crack down on click-bait after conducting a survey on what people like to see on their News Feeds. Facebook found 80 percent of people "preferred headlines that helped them decide if they wanted to read the full article before they had to click through," according to the blog post.
Oh, and for those three or four lucky people who are still not familiar with click-bait, here's what it looks like: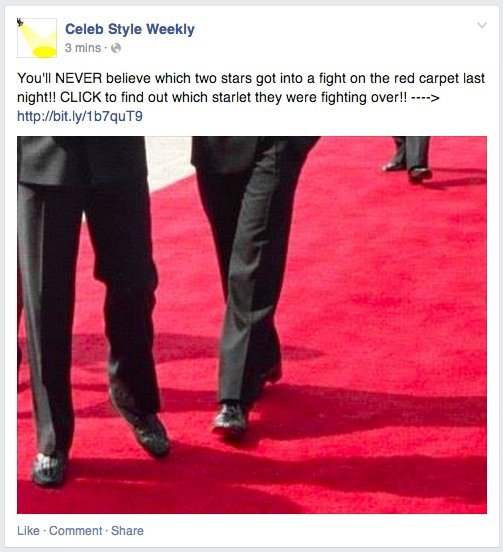 Sadly, Celeb Style Weekly isn't a real news organization; it's a fake one created by Facebook, it seems, to make its point without hurting anyone's feelings.
So how will this work? The company plans to track how quickly you return to Facebook after clicking a particular link. If you return quickly enough, Facebook will presume you didn't see anything of value in that article. And if that happens often enough with a given article, Facebook will give it less play in people's News Feeds.
Additionally, the company will begin looking at the ratio of clicks to shares and comments. That article with lots of clicks but few comments and shares? Facebook considers that click-bait now, baby.
So what do you hate more: Facebook spying on you? Or being told YOU WON'T BELIEVE some underwhelming tidbit of information? You'll have to click to find out.
Related