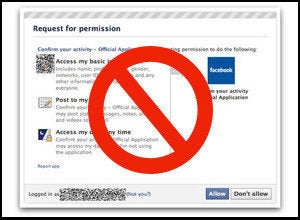 Is Facebook cleaning house and closing down all inactive accounts on its website? Absolutely not, but a malicious application wants you to think so.
According to Graham Cluley at Sophos, this scam is spreading virally and is posting the following messages to people's Facebook walls:
Facebook is closing all accounts today. They can't handle so many accounts. Most of the old accounts are not active, so they are deleting everything. If you want your account alive please confirm your activity. This is the final notice!
Final Notice - Confirm your activity today! In order to keep your account alive you must verify your activity! Your account will be permanently disabled if you don't take this step.
The rogue posts includes a link to a page masquerading as a legitimate Facebook application. Like other scam apps, this one asks the user to click "Allow," which grants the scammers access to the user's walls personal information--even when the user is signed off.
"If you the fear of losing your Facebook account drove you to make a bad decision and you did grant the application the right to post to your wall, it will take advantage immediately and take your browser to an online survey that earns the scammers commission," writes Cluley.
If you spot this link, don't click on it. If you already did, Cluley has also created a video that will help you clean up your Facebook profile. (Watch it here.)
View a screenshot of the app (below). Then, visit Sophos.com to learn more about this latest Facebook scam.