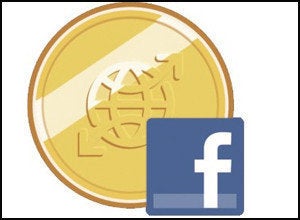 Starting July 1, Facebook will require all social game developers to process real-world payments using Facebook Credits, the social network's proprietary payment platform for virtual games.
Facebook's Deborah Liu, who posted the announcement on Monday on the Facebook Developer Blog, wrote that developers may continue to use their own virtual currencies in addition to Facebook Credits, but that Facebook will offer incentives to those who switch entirely to the social network's in-site exchange system. "These developers will receive early access to product features and premium promotion on Facebook, including featured placement on the Games Dashboard, premium targeting for ads, and access to new co-promotion opportunities," Liu explained.
So far, 350 applications from 150 developers (including Zynga, Playfish, CrowdStar, Digital Chocolate, PopCap, Arkadium and others) have adopted the Credits system since its beta launch six months ago. According to Liu, this accounts for "more than 70% of virtual goods transactions volume on Facebook." However, Facebook seems to be anticipating resistance to the newly announced policy. Writes TechCrunch,
The company acknowledges that some developers may not be pleased with the news, explaining this is why it is announcing the news five months in advance, so it can "have an open conversation with developers". The rule only applies to Canvas games (games that use Facebook Connect aren't affected), and while it's games only at this part, Facebook says that it eventually would like to see all apps using Facebook Credits.
For now, Facebook could potentially entice more users to participate in paid gaming with this streamlined payment system for virtual goods. "For consumers," writes All Things D, "the benefit [of Facebook Credits] is that they can enter their payment information once and buy currency across lots of games." Download Squad even goes to far as to predict that "Facebook Credits could expand outside of Facebook to become the new PayPal."
In addition, Facebook will pocket 30 percent of the profits on all transactions completed using Facebook Credits. Considering the success gaming giants like Zynga have found on Facebook, this profit-sharing model could prove to be quite the cash cow once every game developer is on board.
Popular in the Community