If you're a female Facebook user who has had trouble accessing your account, you're not alone.
As BoyGeniusReport writes and Facebook confirms, a Facebook glitch mistakenly disabled some "thousands" of Facebook accounts, seemingly all them belonging to women.
BGR writes, "The Facebook users, who do not appear to have violated Facebook's terms of use, are seeing messages that their accounts are 'inauthentic.'"
HuffPostTech received a number of emails from frustrated readers who said they were having problems logging into Facebook.
"On Friday I could not log into Facebook," Valerie L. wrote. "It said my Gmail address was not associated with any Facebook account."
"I just tried to get onto my Facebook account with my Gmail email address," Marian B. told us. "[It's] the only one I have used since I got on Facebook ...and it said I could not."
Facebook acknowledged the bug in a statement issued to BGR:
Earlier today, we discovered a bug in a system designed to detect and disable likely fake accounts. The bug, which was live for a short period of time, caused a very small percentage of Facebook accounts to be mistakenly disabled. Upon discovering the bug, we immediately worked to resolve it. It's now been fixed, and we're in the process of reactivating and notifying the people who were affected.
The headaches aren't over, however. Although the glitch has been remedied, Facebook is asking many users whose accounts were disabled to send them the image of a "government-issued ID," ensuring that their "full name, date of birth, and photo are clear." While Facebook assures that it will "permanently delete your ID from our servers once we have used it to verify the authenticity of your account," users aren't happy.
A Facebook group protesting this ask called "Against Verifying Accounts With Mobile/ Credit Card/ Government Issued ID" has already been formed. "This Page is for members who are against having to verify their accounts with a mobile phone number, a credit card number, or sending a copy of their Governement issued id to verify their accounts and identity," its description reads.
According to the Facebook group, users were given the following form to complete and return to the social network (See below).
Were you affected by the bug? Do you think Facebook is going too far in requesting copies of people's IDs? Weigh in below.
UPDATE: HuffPost reader Tina P. tells us she hasn't been able to reactive her Facebook account, despite having followed Facebook's instructions. She writes, "I'm one of those "women" who discovered that my account was disabled on Tuesday. As requested, I provided my government issued (Nevada) driver's license. This morning I received a message from Facebook telling me that 'Unfortunately, we will not be able to reactivate this account for any reason. This decision is final.'"
LOOK: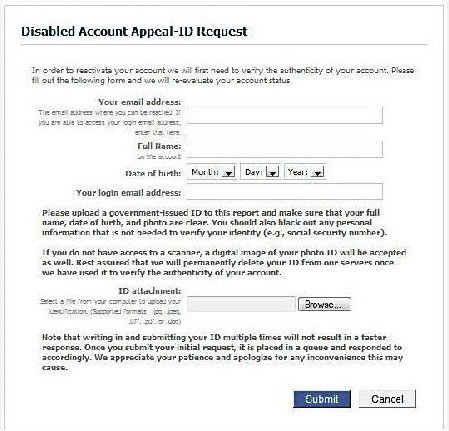 REAL LIFE. REAL NEWS. REAL VOICES.
Help us tell more of the stories that matter from voices that too often remain unheard.