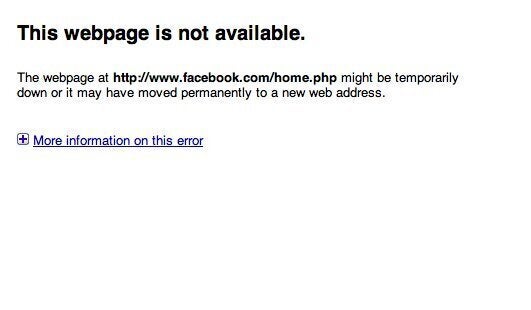 UPDATE: Facebook has offered more details on the outage, which Facebook says was its worst in four years.
A database problem caused the service issues, which Facebook resolved only by turning off its site. Facebook explains: "The way to stop the feedback cycle was quite painful - we had to stop all traffic to this database cluster, which meant turning off the site."
--UPDATE: Facebook seems to be back up and running! Let us know if you're still having trouble accessing the site.
--Wondering if Facebook is down? It's not just you!
Users have been reporting issues accessing Facebook, and the website DownRightNow reports that a "service disruption" is "likely."
According to DownRightNow, as of 3:30PM ET, the last status change was 51 minutes ago and the "last widespread service disruption" occurred an hour ago.
TechCrunch points out that Facebook's downtime has taken the Internet's Like buttons with it:
This is a problem not just because the site is down, but Facebook's omnipresent Like button is also completely down, so the entire Internet (or a good percentage of it) is feeling this pain.
This is the second time in two days that Facebook has been experiencing service issues. Yesterday, according to Mashable, problems with a "third party networking provider" caused the disruption.
We'll keep you updated on its status. In the mean time, follow the Twitter feed below for real-time updates on the outage.
UPDATE: Facebook has released the following statement.
We're currently experiencing some site issues causing Facebook to be slow or unavailable for some users. We are working to resolve this issue as quickly as possible.
UPDATE: AlertSite, a web performance management firm, has contacted The Huffington Post with this statement
Facebook started experiencing problems at around 2:30 PM EST. Between 2:30 PM EST and 3:30 PM EST Facebook only had 38.46% availability with sky high response times of up to 60 seconds from one of our monitoring locations. Over the last hour, AlertSite has recorded errors in all 12 of its monitoring locations throughout the US.
Support HuffPost
The Stakes Have Never Been Higher
Related
Popular in the Community