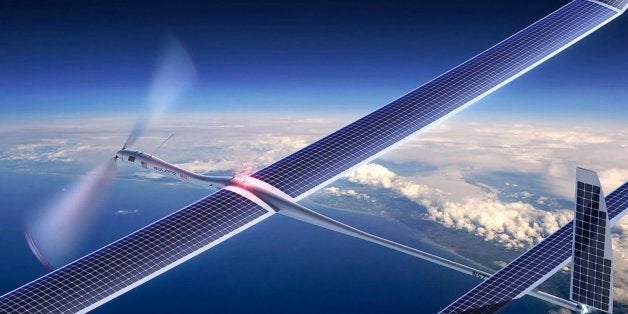 Move over, Amazon. These drones aren't for convenience -- they're for humanitarianism.
One of Titan's UAVs, called the Solara 60, can stay in flight for around five years. Facebook plans to build 11,000 Solara 60s and use them to bring Internet access to Africa, according to TechCrunch.
Facebook and Titan did not respond to requests for comment from The Huffington Post. A source confirmed to CNBC Tuesday that Facebook was in talks to buy the drone maker.
Drones have become sort of a joke in the tech sector, ever since Amazon announced it planned to use drones to deliver packages to customers in under an hour during a segment on "60 Minutes" last December. Some argued that the segment was more of a commercial for Amazon than a legitimate announcement of innovation.
In an interview last year with CNN, Zuckerberg said Facebook had a "rough plan for what we think we're going to need to do" in order to bring 5 billion more people online. Zuckerberg said that the Internet.org plan isn't about money, but rather, "we just believe that everyone deserves to be connected and on the Internet."
Facebook's director of global connectivity, Chris Weasler, also told CNN in an interview that the social network is "defining projects that we can launch -- often in test or trial mode -- that are focused on removing some of the key barriers to getting people on the internet affordably."
Of course, this Facebook plan -- if it's true -- would theoretically create more customers for the social network. But it's hard to argue that bringing the web to the world isn't a good cause.