The people who work at Facebook are ridiculously happy about it, new data shows. Ninety-six percent of employees at the social media giant report high job satisfaction, according to a survey of workers at 18 major tech companies from the jobs site Payscale.
In the survey, released Wednesday, Facebook scored the highest satisfaction rating compared with its peers, a list that includes Google, Apple, Amazon and Tesla. Facebook workers also reported the lowest levels of stress -- 44 percent -- as compared to other tech companies.
Payscale's data comes from its salary survey -- a list of about 25 questions about your job, company, skills and so on -- that some 54 million visitors to the site have taken. The data for this particular survey came from a total of 33,500 tech workers. Payscale says the margin of error on the data is 10 percent.
Lots of money certainly helps keep people happy, but it's not likely the full explanation here. Facebook workers' average pay during the first five years of their tenure is $116,000, according to the Payscale data. Employees with more than 10 years' experience see their pay rise to $149,000, on average. Those numbers don't include stock-based compensation. Facebook shares have been killing it lately, certainly beefing up employee coffers.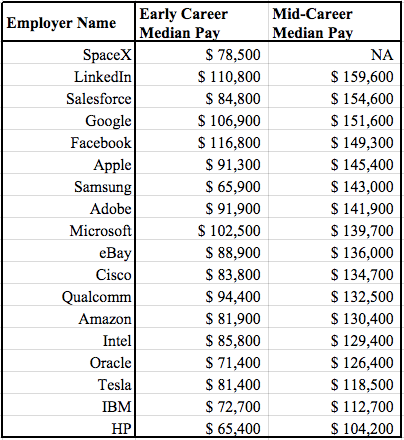 Facebook also offers the kinds of things that would certainly help to reduce stress: Men and women get four months' paid parental leave. Health insurance for single employees is free, according to Glassdoor, and costs are low for employees with dependents.
"With Facebook you literally do not have to worry about anything," a February review on Glassdoor says. "Every benefit possible is available to you."
Also, working at an extremely successful company helps keep the stress in check. You're not worrying about layoffs or obsolescence, as you might be at the more aging tech outlets.
It's good to be the king.
It should be said that an overwhelming majority of these super-happy workers are men -- young men. The median age of Facebook's workforce is 29 years old. Just 32 percent of Facebook workers are women, according to self-reported data.
Tech is a young man's game. Seven of the 18 companies on Payscale's list have a median employee age of 30 or younger, and 10 have workforces of less than 30 percent women. The company has been outspoken about its efforts to recruit more women and underrepresented minorities.
Clarification: An earlier version of this story stated that the average Facebook worker is 29 years old. In fact, this is the median age at the company.
Related