Drag queen Sister Roma had been using Facebook for over six years when she was blocked from her account this week until she agreed to change her settings to reflect her legal name, Michael Williams. In a reported effort to enforce safety rules that insist that all users indicate their legal name, Facebook may have put Roma, and potentially thousands of other drag performers, at risk while inadvertently igniting a firestorm that is sweeping across the LGBT community.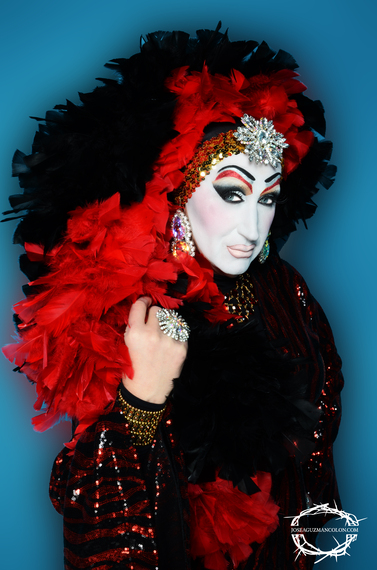 Photo by Jose A. Guzman Colon
Many performers use fictitious names to develop their identity and brand. Facebook provides these personalities a platform to communicate and share their latest happenings and news. When asked about the matter in an interview, a representative from Facebook indicated that the use of a fan page was one viable manner in which individuals could use their stage name on the platform, but that safety dictated that all people pages be linked to legal names. However, for drag queens, the distinction between the characters we play and the people we are in our daily life can be fluid.
Such is the case for the feisty Sister Roma, a member of the Sisters of Perpetual Indulgence, a nonprofit organization that is known to advocate for and support the LGBT community. While Roma may be Michael by birth, she has developed longstanding friendships through the years that go beyond simply posting events on her Facebook wall. Stripping Roma of her stage name in effect ripped her painted face right off and exposed Michael's privacy while it devalued Roma's relationships. Roma's response to this move was to go on the offensive, whipping up a Twitter hashtag war cry, #MyNameIsRoma, and letting out an impassioned battle call in an interview, declaring, "I detest the idea of having a fan page. I'm not fucking Britney Spears. I have friends, not fans." Her calls did not go unanswered: Drag queens and members of the LGBT community around the world have begun rallying behind Roma and her sisters, spreading the news of Facebook's move against drag artists, including through achange.org petition urging the company to do away with the hurtful policy.
The claim that forcing drag queens to broadcast their true identities to the entire world is somehow a safety measure falls on deaf ears in a community that is made up of individuals from all walks of life who have endured attacks for their mere existence for as long as they can remember. Gays, lesbians, bisexuals, and transgender people -- and drag queens can often belong to more than one of these groups -- know full well the difficulty that comes with coming out to the people with whom they are closest. For that reason many drag queens, while leading fulfilling lives both on- and offstage, have not let family members or employers in on the news of their alternate personae, as it's a deeply personal and hard conversation to have -- sometimes more difficult than coming out the first time. Coming out as a drag queen has led to more than a few broken families, lost employment, and strained friendships. This is why, while cultivating relationships with individuals online using their stage name, not all queens are fully comfortable with letting certain family and friends into their world of drag. Facebook's policy forces these queens to either choose between maintaining a social-media presence and risking losing their online support system and carefully balanced identities.
Only months ago Facebook was applauded for planning to provide non-binary gender options to users. In addition, profiles are awash with fictitious names and identities, which is why many are questioning the motive behind what seems like a targeted and specific attack on drag queens by Facebook. There is some whispering that the move has nothing to do with safety but is merely a means of making more cash, as fan pages are places where personalities can pay great money to advertise and sponsor their posts. Whatever the reason, the practice is coming across as a bigoted attack on a group of passionate users who have made Facebook their social home for years. It smacks of bullying and feels like yet another form of harassment toward the LGBT community.
Popular in the Community