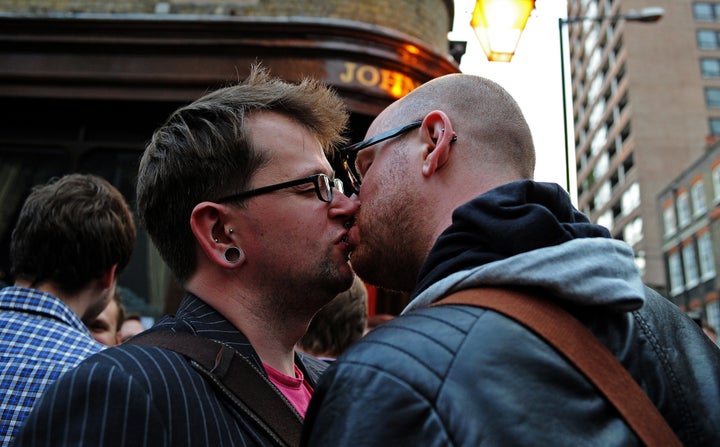 Two men kissing: too risque for Facebook?
The social network recently removed a picture of a gay kiss for allegedly violating its terms of use, which state, "You will not post content that: is hateful, threatening, or pornographic; incites violence; or contains nudity or graphic or gratuitous violence."
The photo in question (see it here) accompanied a Facebook page calling for a "kiss-in" protest for an incident at a pub, where a gay couple was ousted for kissing (the landlady deemed the act "obscene").
Facebook has since re-instated the page, and apologized for the error in a statement.
"The photo in question does not violate our Statement of Rights and Responsibilities and was removed in error," the statement read.
The removed picture, a promo pic from the soap opera Eastenders, contained no nudity or graphic sexuality, but the event has sparked outrage from users wondering why a photo of two fully clothed men engaging in a kiss would be flagged. Already, Facebook pages have been set up where users have flooded the feed with more pictures of same-sex kisses. A gay kiss-in to protest the act has also been organized.
Especially curious is the fact that Facebook does not remove every picture flagged as inappropriate. According to them, a "Facebook administrator looks into each report thoroughly in order to decide the appropriate course of action. If no violation of our Statement of Rights and Responsibilities has occurred, then no action will be taken," suggesting that a person, not a program, may have removed the picture.
"Facebook has said that it was a mistake to remove the picture," reads a post from the event protesting the removal. "Mistake or malicious, it shouldn't have happened. Many people have been affected."
Facebook also ran into trouble when they recently removed a photo of the 1866 painting "The Origin of the World" by Gustave Courbet, which is a representation of female genitalia, and deleted the user's account. The man is now suing the site for causing him to miss messages on the eve of his birthday. Facebook previously removed the same painting, and deactivated the accounts, of two other users: a Danish artist whose profile was reinstated on the condition that he post no more nudes, and a French writer who changed his profile picture to the painting in support.
Related
Popular in the Community