The dating app, Zuckerberg said, is meant to help bring people together in long-lasting relationships, not random hookups. The CEO explained that the app was designed with privacy and safety in mind from the beginning. That's incredibly important, especially when it comes to dating apps.
To get to the dating feature, you'll simply tap the heart icon in the top right corner of your Facebook profile. Your dating profile will only show your first name, and will only be visible to other people on the dating service, so your Facebook friends won't see your dating activity.
In the dating app, you'll be able to see potential matches, as well as nearby events that match up with you personal interests. You can then tap an event to unlock it and see other dating app users who are interested in the event and start messaging with them.
Facebook says you can only send text in the messaging feature, and that it's not connected to Messenger or WhatsApp. That's a good move, since it would be pretty awkward to send a message meant for your potential bae to your Aunt Charlotte.
Online dating giant Match Group sells off sharply
Equally interesting will be how Match Group responds to Facebook's move. The owner of a slew of dating apps including Match, Tinder and OkCupid, among others, Match Group is a leader when it comes to dating communities. But with more than 2 billion monthly users, Facebook could quickly become the leader in the dating market.
Investors seem to think so, as well, as Match Group's (MTCH) sold off sharply after the news and was down about 19 percent in afternoon trading. IAC/InterActiveCorp (IAC), which is the majority owner of Match, was down 12 percent.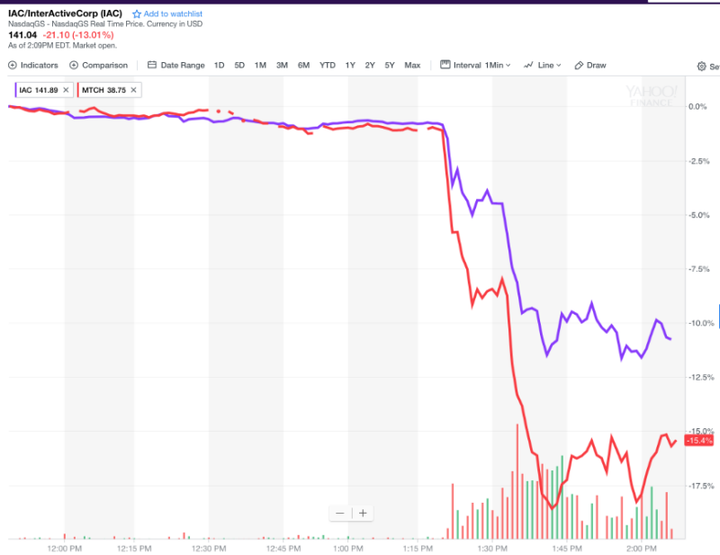 We'll find out more about Facebook's dating app when it's released later this year.
Related
Popular in the Community