WASHINGTON ― Facebook, Twitter and Google representatives could not assure Congress on Tuesday in their first of multiple hearings that they knew the full extent of efforts by foreign governments to influence American elections on their platforms ― or that such efforts won't happen again.
Appearing before the Senate Judiciary Subcommittee on Crime and Terrorism, Facebook general counsel Colin Stretch, Twitter acting general counsel Sean Edgett and Google director of law enforcement and information security Richard Salgado faced cutting questions from senators about their role facilitating the dissemination of propaganda paid for by foreign nationals to Americans during the 2016 election.
The tech representatives often stumbled, failing to explain what kind of content they could or could not police and what they will do in response. Senators from both parties didn't just focus on the alleged Russian influence campaign; it also was clear there was some bipartisan agreement that the Silicon Valley companies that package and sell our attention have too much power.
A key and crucial moment in the hearing occurred when Sen. John Kennedy (R-La.) directed a tough line of questions to Facebook's Stretch. Kennedy opened up by stating, "Your power sometimes scares me." This is nothing to take lightly. In fact, the power of these companies is the key point underlying this scandal.
Facebook and Google are two of the five richest corporations in the U.S. They both hold practical monopolies in their areas of expertise, social media and search, respectively. They've amassed this power and wealth by monetizing their users' data and attention for advertisers. And now they're being called to account for users' data and attention being used to propagandize to them.
Kennedy asked how many advertisers Facebook has, and Stretch responded that the company has around 5 million different advertisers each month. "Did China run ads in last election cycle?" Kennedy wanted to know. "Did Turkmenistan?"
"Not that I'm aware of," Stretch responded, providing the answer Kennedy expected. Kennedy then said it appears there's no way for Facebook to adequately know everyone who is advertising on its site if there are 5 million different advertisers every month ― and Stretch admitted as much.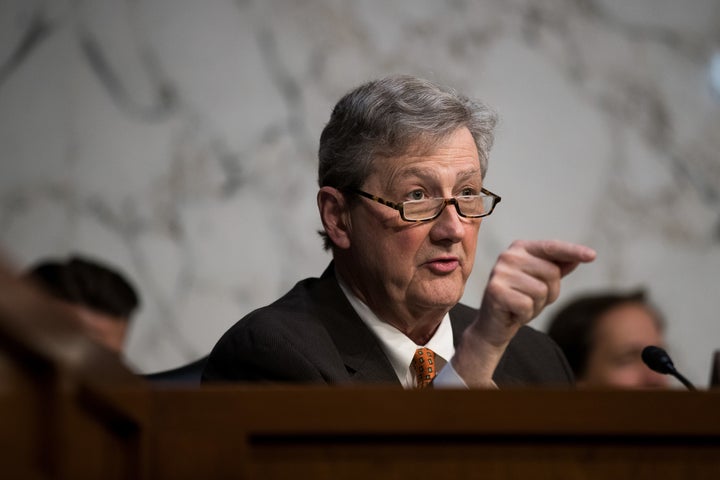 Sen. Al Franken (D-Minn.) took Facebook's Stretch to task over the fact that Russians purchased ads about U.S. elections with rubles. While it's not strange for foreign advertisers to purchase advertisements in their local currency, Franken asked with a bit of wry humor, "You can't put together rubles with a political ad and go, Hmm, those two data points spell out something bad?"
Stretch admitted, "It's a signal we should have been alert to," but didn't confirm the company wouldn't accept political advertisements paid for in foreign currency in the future. In later questioning, Twitter's Edgett said they would not accept foreign currency to pay for political ads. Google's Salgado, however, attempted to explain that they would examine whether the use of foreign money to purchase political ads was a proper "signal" of inappropriate activity.
Franken pressed Stretch about a ProPublica report that the company allowed advertisers to target paid messages to people who qualified as "Jew-haters." Stretch confirmed Kennedy's earlier point that the company can't fully know the extent of advertising on the platform. "We're not aware of any revenue using those targets," he said.
Later in the hearing, Kennedy returned to his earlier theme asking both Facebook's Stretch and Google's Salgado whether, even if it were against their internal rules, they could know the innermost details of a specific individual's life. He asked about a report showing Facebook allowed advertisers to target teenagers at the exact moments they were most depressed and vulnerable. Stretch said the report was based on an internal document, and the company had already dealt with the issue. He said internal rules forbid the accessing of individual personal user data, but refused to state whether it was possible.
Kennedy replied, "You have the ability to give me a list [of users] who are teenagers, who are insecure about their weight. You may not sell that but you have the ability. You may have a policy against it but I believe you can do it."
Google's Salgado admitted that, while there are internal rules against accessing individual user data, "We certainly have the ability to look at a user's account."
While the focus of the hearing was about the alleged Russian influence campaign, Sen. Lindsey Graham (R-S.C.), the committee chairman, asked, "What nations do you worry about other than Russia?"
It was a question that none of the tech company representatives had a clear answer for. It appeared the companies had not investigated whether any other foreign nation was involved in any kind of influence or propaganda campaign targeting the United States. Facebook's Stretch said the problem "really is a global threat."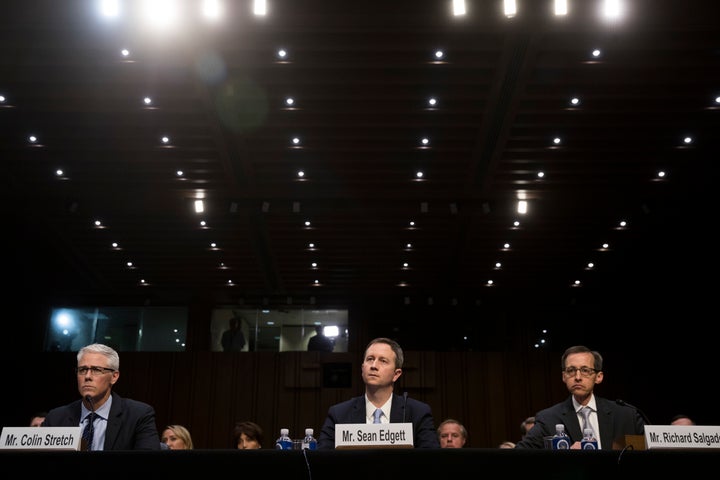 Sen. Amy Klobuchar (D-Minn.), who has introduced legislation with Sens. Mark Warner (D-Va.) and John McCain (R-Ariz.) to require online advertising disclosure, asked whether the companies would support her bill, called the Honest Ads Act. The three representatives all said they would like to work with her on the bill, but none definitively said they supported its passage.
The corporate representatives began the hearing by detailing what happened in the 2016 election, and how their companies plan to respond to the alleged Russian influence operation that used false personas to purchase advertisements and disseminate content on the three platforms.
Representatives for Facebook and Twitter both explained that the Russian influence operation began in 2015 but did not specifically manifest as opposition to Democratic presidential nominee Hillary Clinton until 2016. After the election, the operation shifted to one trying to discredit President Donald Trump. As had been reported previously, the campaign took various different angles, making Americans agitate over hot-button issues.
Facebook and Twitter discussed their plans to institute previously announced disclosure policies for online political advertising. Google additionally said it would allow users to see the names of advertisement purchasers by clicking on a button related to the ad.
At times, Google's Salgado attempted to distance his company from both Facebook and Twitter. He stated how little was spent by Russian advertisers on politically relevant ads and how few views their YouTube accounts received in comparison to the larger problems of advertising, fake accounts and bots on the social media platforms.
Sen. Pat Leahy (D-Vt.) was not pleased with the responses from the companies, calling them "a lot of Johnny-come-latelys." He added, "There's a lot you could have done earlier. I suspect that your advertising departments watched [their] profits go up."
The absence of company chief executives was also noted negatively. Sen. Chris Coons (D-Del.) said, "I wish we had the executives of your three companies here with us today."
The same three representatives will testify again before the Senate and House Intelligence Committees on Wednesday.
Popular in the Community