 So how come just 668,872 Facebook users -- or .067 percent of Facebook's total membership -- voted in the site's final Facebook Governance Vote, which asked people to weigh in on the future of democracy on Facebook and Facebook's proposal to integrate data from Instagram? Is it because we don't care enough to vote -- or because Facebook doesn't care enough to make sure we do?
Facebook was a few hundred million votes away from the 300 million vote minimum required to get the site to actually heed the results of its vote -- and stop the social network from scrapping the voting process altogether.
The low turnout is no doubt in part a symptom of user apathy. Not one of Facebook's recent votes have attracted more than a paltry percentage of users: One held in April of 2009 garnered 665,000 votes, and one in June attracted just 342,000 users, according to TechCrunch.
But Facebook, which is built to make things go viral, didn't exactly go out of its way to position the vote front and center for its users. Facebook's main Twitter account, @Facebook, was entirely mute on the matter. (In the last week, it's tweeted just twice, both times promoting links to the site's promotional Facebook Stories site.) The social network's primary Facebook account, "Facebook," was also silent about the vote. Facebook has previously made small, temporary changes to its desktop website, Facebook.com, to highlight holidays, special occasions or new product releases. On Halloween, for example, Facebook switched up its status box to ask users to share their "favorite Halloween memory" or "best Halloween costume.". When the social netowrk launched its Gifts feature, it had eye-catching alert on the top right-hand corner of the page.
Of course Facebook wasn't entirely mum on it either. A Facebook spokesman told The Huffington Post, "We emailed more than a billion people to inform them that the vote was taking place and made the voting app experience shareable so they could share on their newsfeed that they voted." (Emphasis is Facebook's.)
Indeed, to promote the governance vote, Facebook sent its users an email with the subject line "Our Global Site Governance Vote" that explained the issues at hand. Facebook also posted five updates about the vote to its "Facebook Site Governance" page, shared news about the vote on related pages, such as Facebook and Privacy, and held a "Privacy Q&A" webcast about the proposed changes to Facebook's data use policies (all three participants were Facebook employees). However, it's worth noting that the "Facebook Site Governance" and "Facebook and Privacy" pages are followed by a sum total of around 3,725,650 users, or less than a tenth the number of followers of the main Facebook page, which as 82,575,855 "Likes."
So yes, Facebook did try to get the word out about its vote. But their success promoting other initiatives and all around viral expertise suggests that if they really, deeply, passionately cared about getting input from their users, they would have done much more. Like updating their Facebook account, for starters.
Going forward, voting on Facebook is going to look a whole lot less like this:

And a whole lot more like this: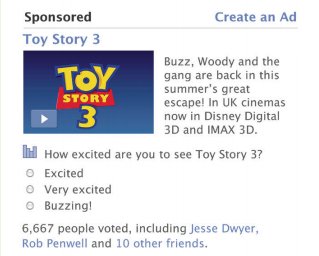 As Facebook's vice president of communications Elliot Schrage explained in a blog post announcing the vote and proposed site changes, since voter turnout was less than the minimum 30 percent of active users, the results of the vote -- which overwhelmingly opposed the privacy policy changes and the end to the voting structure -- will be "advisory."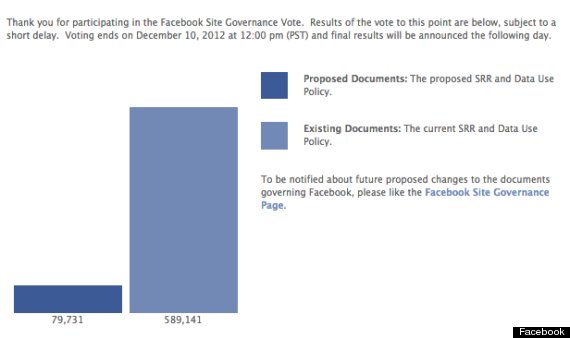 Related
Before You Go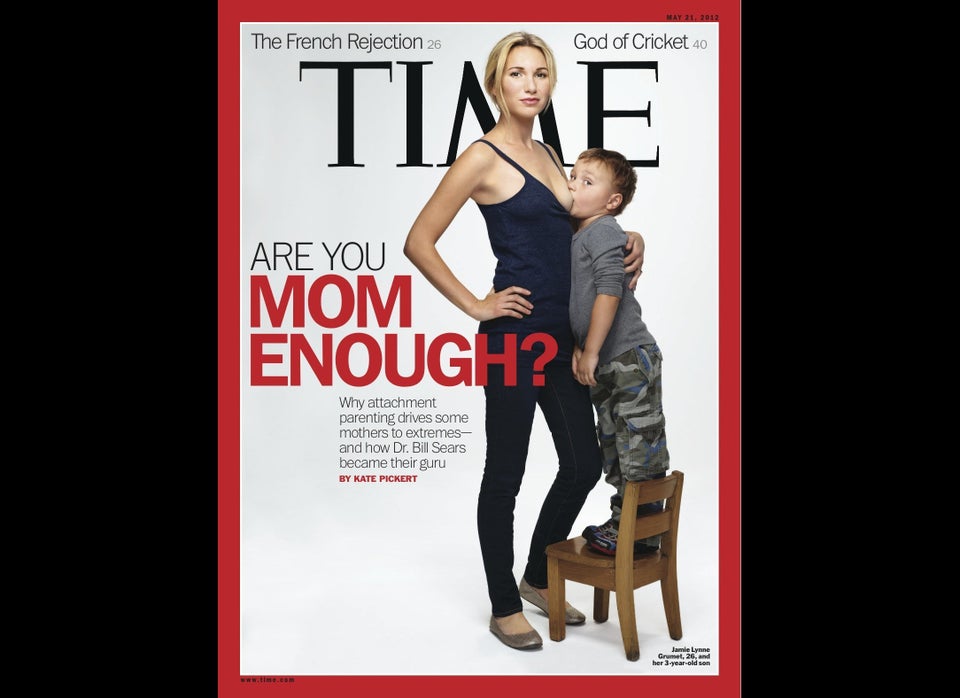 Facebook Might Ban Your Account If You...
Popular in the Community