 I can't deny that I have resisted much of the Facebook revolution. It's not that I don't think it is a brilliant way of keeping in touch with those old friends, it is more that as a bit of a technophobe, I never really fully understood its other applications. Since discovering Facebook's Graph Search though, I can't deny I am a total convert! There isn't a bride out there who doesn't use a search engine at one point or another when planning her wedding; whether to find her vendors (even her planner!), seek advice on planning or etiquette or get the latest design inspiration. More often than not though, these results carry a lot more weight if also recommended by a friend. With Facebook Graph Search, which was announced earlier this year, you can use the power of your social connections to make planning your big day easier by harnessing their experience and recommendations, making your big day even more personal.
Discover the Perfect Vendor
Finding the best partner (and we're not talking about your fiancé!) to meet your needs can be challenging with hundreds of options to choose from. Knowing who and what has the stamp of approval from people you trust is critical and is now easier to find. Because Graph Search can look up anything from photos to local businesses or brands your friends like, you can search for '[insert vendor need here] -- florists, DJ's, photographers, bakeries -- that my friends like' to get a list of options. The search results show which of your friends has liked each vendor, so you can message your friend to ask questions or get a referral. Planning a destination wedding? No problem. Just add in the destination (city or country) to your search terms.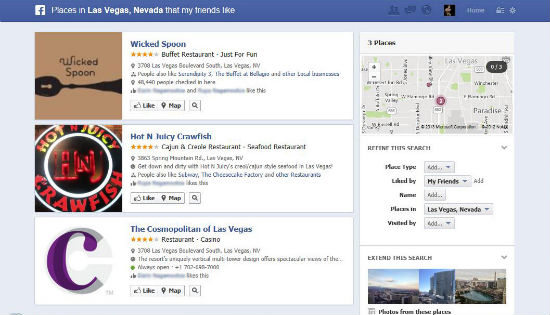 Find photos of your bridal party
Looking for photos of you and your best friends from senior year to add to a collage, or want to find all the early photos of you and your fiancé, and turn it into a slideshow? With Graph Search it's so much easier to search for pictures of certain people within a specific time frame. Simply enter 'photos of me and (your friend's name) in 2012' or 'photos of me and (fiancé's name) before 2010' in the search bar on any page on Facebook and voila! Graph Search will serve up photos matching these search terms for you to choose from while providing you a personalized trip down memory lane. Just don't let the best man run too riot with it or all those embarrassing snaps from your past might end up in his speech presentation!
Give something they really love
Every person is unique -- including your bridesmaids and family members. Personalize your bridal party gifts by researching the brands, books, TV shows, movies and music your bridesmaids and family have liked on Facebook, for example by searching 'movies my friends like.' You can even send them a cute gift using Facebook Gifts.
Create your wedding playlist
Whether it's the song you're walking down the aisle to, your first dance with your spouse or the evening's party tunes, music is the main mood setter so it is critical to get it right for the big day. Search for 'music my friends like' and scroll through for songs to add to your playlist and share with your DJ. You might be surprised by how many of your friends like 90s rock, or you might just rediscover some old classics.
With your wedding planned, it's time to focus on your first trip as a married couple. Discover new locales by searching for places your friends have travelled to in recent years. You can search for countries or cities your friends have been to or check out photos from a friend's recent trip to Bali or Italy. These searches will give you ideas and help guide you to pick the honeymoon destination that suits the both of you. Once you've nailed down your destination, you can search for hotels or attractions to get recommendations for places not to miss. On the right hand side of the search results, you can filter your options by place type, or type in the search bar to search for landmarks, golf courses, beaches, wineries & vineyards, ski resorts, etc., and find friends who have visited or liked these places. Once you have picked where you want to go, you can look for recommended hotels, restaurants or bars nearby, e.g. "hotels near [place or attraction]".
For more on Graph Search click here. Millions of people are now using Graph Search, and it will be rolling out to more people over the coming weeks. If you don't have it yet, sign up here to try it out soon. =I promise, this is one new technology you won't regret adopting!