Back in January, when Facebook improved the way users could search their connections with structured data, I wrote about the opportunities for businesses to optimize their Facebook pages. The discovery tool was so powerful that a week later I wrote a new article to warn readers that Facebook data could cost them their job.
Not all users had access to the beta version of Graph Search, but that is changing today. After six months making improvements, Facebook users in the United States with their language set to "U.S. English" will be able to dig deeper with the new Facebook Graph Search. Other languages will follow later.
The beta version of the search service could recognize phrases but had a difficult time with synonyms. Although improved, Graph Search now understands related pages and topics, but still needs improvement on recognizing synonyms.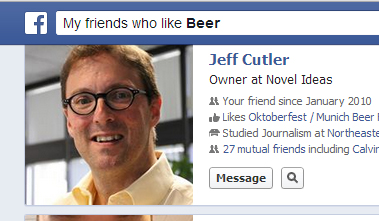 For example, when searching for "friends who like SEO" there were no results from my social graph, but "friends who like search engine optimization" had seven results. Interestingly, searching for "friends who like beer," I was given ten times as many results as friends who like search engine optimization so I'm not sure what this says about my social graph!
Graph Search will continue to evolve and leverage additional signals like the #hashtags that Facebook finally embraced. However, it currently only takes into account the Facebook pages users like and does not process status updates or data from Instagram, the photo/video service acquired by Facebook back in April of 2012.
As a business owner, you now have more reasons to encourage users to "like" your page. Once a user likes a business's page, it opens the door for the administrator of the page to engage with users and offer targeted discounts and options, as well as becoming part of their social graph and increase the reach of the Facebook page.
Your Turn:
Are you ready to embrace Facebook as a new discovery tool and lead generator for your business? Add your comment below.
Julio Fernandez is Vice President of Search Marketing & Analytics for SocialShelfspace.com, a marketing agency that combines search engine optimization with influencer outreach to deliver measurable effects. His previous Huffington Post blog posts covered Google's Knowledge Graph as well as Facebook graph Search and privacy issues.
Calling all HuffPost superfans!
Sign up for membership to become a founding member and help shape HuffPost's next chapter