Since starting the 4th Trimester Bodies Project in June 2013, Ashlee Wells Jackson and her partner Laura Weetzie Wilson have photographed about 450 women, created a documentary and reached a three-volume book deal -- all in an effort to celebrate how the body changes after pregnancy, "stretches, stripes, scars and all."
In that same time, Jackson's Instagram account featuring photos from her project has been shut down nine times. She's been locked out of Facebook on multiple occasions, for about 100 days total. Numerous photos of moms breastfeeding and moms posing in undergarments have been flagged and removed on both platforms. Just last week, Jackson's newest Instagram account, which she says didn't include any images that violate the social media site's rules, was shut down in two hours.
"It's ridiculous censorship of things that don't need to be," Jackson told The Huffington Post. That's why she's on a mission to convince the social networks to #StopCensoringMotherhood by allowing images meant to normalize the sight of real moms' bodies.
Story continues below.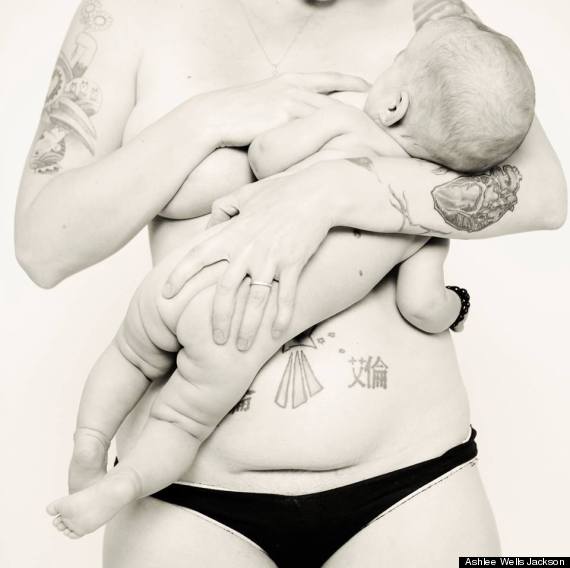 Photographer Ashlee Wells Jackson with her baby.
Jackson explained last year how her traumatic pregnancy and birth experience motivated her to start the 4th Trimester Bodies Project. She has an 8-year-old son, Xavier, and when she gave birth to twins Nova and Aurora in 2012, she lost Aurora from complications of twin-to-twin transfusion syndrome. After the baby's death, Jackson struggled with the "strangeness" of her new body. That's when her photo series was born.
I see beautiful, inspiring, real women on a daily basis who struggle with their body image because they don't feel they measure up with who the media tells them to be. I feel like this is even more poignant in mothers who often feel like their bodies have been ruined when they should instead be respected for creating, sustaining and nourishing life. So much more needs to be done in our society to embrace body positivity and normalize breastfeeding. ... So, I started with my story and it has exploded into a beautiful thing from there.
The Photos Causing A Ruckus
The first time Jackson ran into problems was in August. The images that have caused her accounts to be shut down tend to fall into three categories: Breastfeeding, moms wearing the equivalent of bikinis (no nipples or genitalia ever shown), and very young children without clothes.
Story continues below.



A sample of photos that have been removed from Facebook or Instagram.
Where Do Facebook And Instagram Stand?
While Facebook and Instagram won't comment on specific cases, and won't speak to Jackson or her lawyer, their guidelines on these types of photos are clear. On Facebook, breastfeeding photos are allowed, women in bras and underwear (as long as nothing is exposed) are also allowed, but child nudity of any kind is prohibited.
When an image is flagged by a user on Facebook, a spokesperson explained to HuffPost, an employee decides whether to remove the photo.
But the system isn't perfect.
"It is very hard to consistently make the right call on every photo that may or may not contain nudity that is reported to us, particularly when there are billions of photos and pieces of content being shared on FB everyday, and that has sometimes resulted in content being removed mistakenly," the spokesperson said.
On Instagram's website, the rules indicate that accounts sharing nudity or mature content will be disabled. A company representative did not respond to HuffPost's request for comment.
Jackson said she understands that some of her photos might technically violate the rules, like images of toddlers' backsides. To that, she has two questions: Shouldn't we change the rules? And if not, why is there such obvious select censorship?
"I think that saying all child nudity is not allowed because it's pornography is ridiculous, because it's not. I think that sexualizes things that don't need to be," Jackson said. She cites a recent Massachusetts Supreme Judicial Court case in which justices ruled a photo of a naked child isn't automatically pornography.
"But also," Jackson continued, "if they want their rule to be no nudity whatsoever, any nudity will get you banned, great. It's their platform. They can make that rule, but then they need to consistently uphold that rule."
Photos of celebrities breastfeeding or running on beaches in teeny bikinis are celebrated, Jackson noted. But even more offensively, outright sexual photos exist on both platforms. Recently, Jackson discovered the hashtag #sxy on Instagram, which brings up about 62,000 highly erotic images, including erect penises and adults engaged in sexual acts. "But they don't take that stuff down," Jackson said.
An Instagram photo that reads, "On the left IG considers pornographic, On the right IG is totally cool with. Wtf? WTF?"
Back when Jackson first started having issues with her social accounts, she created a Change.org petition asking Facebook and Instagram to stop censoring her images. "These policies, designed to keep lewd photos off Facebook and Instagram, are misused to make women and breastfeeding moms feel like they're doing something wrong... Our photos are continually censored while blatant pornography and abuses are rampant on both forums," it read.
Jackson said things were mostly quiet for a few months. But recently, she said she has been feeling personally attacked, specifically on Instagram, where two of her accounts have been removed in the last week.
So, she's back at it, and has created the hashtag #StopCensoringMotherhood to help build her cause. The response has been overwhelming, with dozens of moms uploading raw photos of themselves in solidarity.
As Jackson sums up on her website, "This project exists because women and men and society need it. Because our sons and daughters deserve more. Because we deserve more. Because we are beautiful –- stretches, stripes, scars and all."
Related