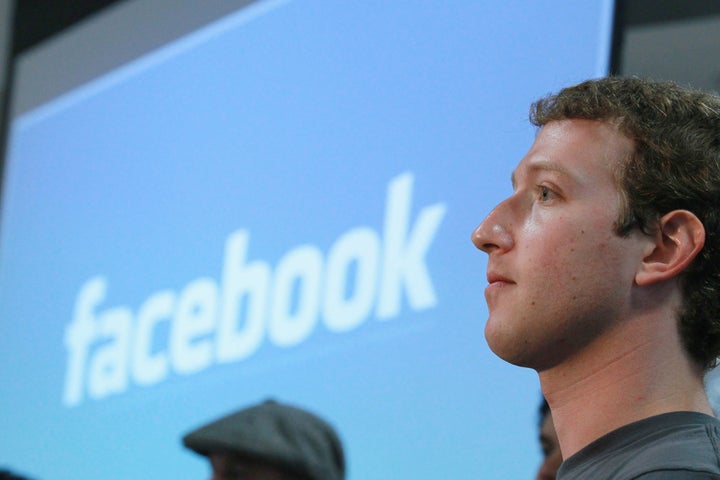 In our increasingly open, more connected, borderless digital era -- the Facebook era -- Mark Zuckerberg follows as much as he leads.
There's no doubt that the Facebook founder and CEO, who turns 28 today, defines a generation. But this is not a one-way street. As the users of the largest social network the world has ever known, we, individually and collectively, are constantly defining Facebook. This symbiotic, give-and-take dynamic -- an unprecedented relationship between creator and product, on such a grand scale, in record-setting time -- is crucial in understanding Facebook's worth.
So with north of 900 million users, how much is Facebook worth? Well, what value do we place on privacy and our identity? Is there a price tag for our connections and our relationships?
These are important questions to keep in mind as a barrage of news on everything Zuckerberg continues hits a boiling point. (Henry Blodget's cover story for New York magazine, "The Maturation of the Billionaire Boy-Man," is worth the read.) Facebook is expected to go public on Friday in an initial public offering that marks not just a financial boom -- the company could be valued at nearly $100 billion, more than Goldman Sachs and McDonald's -- but also a watershed cultural moment.
With Zuckerberg at the helm and Facebook ahead of the pack, the social media era has matured. And this IPO is unlike any technology-related public offering Wall Street has ever seen. Unlike Apple, Microsoft, and Google, Facebook is personal. (You go to Google to, say, search for a doctor; you go to Facebook to interact with a friend.) Which brings up a rarely mentioned point in most of the news coverage: This week's scheduled IPO is merely an extension of what's been happening in the past 8 years -- ordinary people from around the world investing on Facebook with their lives. It's not only Zuckerberg's Facebook -- it's our Facebook.
Indeed, the Ivy League dorm room project turned Silicon Valley behemoth has become a social utility for millions of people outside of the influential and powerful confines of Harvard and the Valley. That's been especially true for Millennials, those born in the early 1980s who grew up with the Internet and make up about half of the world's population, many of whom had never had quite a platform for expression. Facebook is, at heart, what you make of it. The site is only as serious or as trivial as the people who populate it. For many it's nothing more than an addictive and irresistible distraction. For others, however, it's downright revolutionary and liberating. (Ask the young Egyptians who, as chronicled by a Google executive named Wael Ghonim in his book Revolution 2.0, helped overthrow a dictator by using Facebook.) Facebook is as much a creature of Andy Warhol -- everyone gets more than their share of 15 minutes of fame -- as it is of E.M. Forster: "Only connect, and the beast and the monk, robbed of the isolation that is life to either, will die." We constantly worry about privacy because it's how we choose to define ourselves. Whatever Facebook is -- you'd be hard-pressed to find three people agree on one definition -- it's staggering just how embedded and ingrained the service has been in our daily existence. You wake up, you Facebook.
All this online activity now adds up to a multibillion-dollar business. And business, as Zuckerberg likes to say, is not merely for business' sake. The very first sentence of his letter to potential investors reads: "Facebook was not originally created to be a company." But the accidental company, he goes on, comes with a "social mission -- to make the world more open and connected."
Reading the 2,100-word letter, which Zuckerberg wrote himself, I was reminded of an hour-long walk I took with Zuckerberg nearly two years ago. I was working on a profile of Zuckerberg for the New Yorker. As we took a stroll from his office to his home, he told me about his first trip to Silicon Valley: winter break, January 2004, a month before Facebook's launch. He was 19 years old.
"I remember flying in, driving down 101 in a cab, and passing by all these tech companies like Yahoo. I remember thinking, Maybe someday we'll build a company. This probably isn't it, but one day we will," he said. "I see a lot of entrepreneurs who want to build a company, but I don't think it starts with wanting to build a company. I think it starts with wanting to make a change in the world that you really care about, and I really think it's only people who really care about what they're doing who could ever do this."
"This" meant creating Facebook.
When I asked Zuckerberg how Facebook is going to be different from Yahoo and other companies, he replied: "I think the biggest difference between Facebook and other companies is how focused we are on our mission . . . Different companies care about different things. There are companies that care about, just really care about having the biggest market cap. Or there are companies that are really into process or the way they do things. Hewlett Packard, right? The thing that you always hear about them is 'the HP Way.' . . . Google, I think, is very tied to their culture -- they really love that. For us, it is the mission: building a company that makes the world more open and connected. The articulation of that has, I think, changed over time. But that's really been, like, the belief the whole time."
I first wrote about Facebook in July 2005, as part of a front-page story on online popularity for the Washington Post, where I covered technology culture. A month later, thefacebook.com became Facebook, and I've been fascinated by its evolution ever since. In July 2007, inspired by a newly-elected senator from Illinois, a junior at Bowdoin College in Maine created a Facebook group called "Students for Barack Obama" that became one of the most effective organizing facets of Obama's pioneering online campaign. I still remember spending the night of the Iowa caucuses inside a caucus site when, much to the surprise of Sen. Hillary Clinton's older supporters, a group of young students who organized on Facebook took over precinct 211 in West Des Moines and secured Obama's victory. Facebook's rise came at a time when the Internet began defining student life. More than a decade ago, it became standard for colleges to issue .edu email addresses to their students, many of whom carry their WiFi-connected laptops like their second selves.
The Web is a playground -- sexual, political, psychological -- and a source of experimentation and, if they're lucky, entrepreneurship.
That was certainly the case for Zuckerberg, a coder at heart whose idea of a relaxing time is "building things." The teenager who used to describe his job as "Founder, Master and Commander [and] Enemy of the State" on his Facebook page -- and as a joke carried a card that read "I'm CEO... Bitch" -- is now the reigning Millennial CEO of the digital generation. He's considered the second coming of Bill Gates (Harvard drop-out, computer whiz), with the visionary zeal and obsessive compulsion (think product, product, product) of Steve Jobs. Both have served as mentors. But Zuckerberg may prove more consequential to our lives than either Gates or Jobs because he's not just dealing with computer software or gadgets -- he's dealing with people, and our evolution from being private citizens to having public identities.
Everything is better with your friends, Zuckerberg likes to say, and he envisions the Web as becoming more and more social. To that end, Zuckerberg has created a Web of his own, launching products and applications in which people's relationships are at the core.
"Early on, when Facebook was only available in colleges, we saw this pattern where there is a set of people who would change their profile photo every day," Zuckerberg told me. "Well, why are they doing that? Clearly, the reason is they want to share more than just one photo. We had to figure out that the most relevant thing we can do with photos is allow users 'to tag' each other," which meant identifying the people in the photos.
Facebook Photos lacked many features when it was unveiled in late 2005. Users couldn't print the photos. They couldn't sort them. Photos were not in high-resolution. Still, people flocked to the new feature. They tagged and shared photos of themselves with each other -- their faces, their names, their identities, all in one page.
Zuckerberg has also led us to places where we didn't think we wanted to go. In September 2006, two weeks before Facebook opened its site to anyone over age 13 with an email address, he introduced the "news feed." With the feed, Facebook became a living medium.
More than any other feature, the feed was a defining moment for Facebook and for Zuckerberg's leadership, both internally and externally. There was a major user revolt immediately after it went live. Users created Facebook groups asking that the feature be killed. A group called "Students Against Facebook news feed" drew more than 700,000 members in four days. Even Facebook employees felt the heat.
For Zuckerberg, the feed was a critical step in Facebook's growth. For 60 days after its launch, he distributed data to a group of senior executives that examined 10 key metrics to study significant trends. User growth was key. What they found was that instead of losing users, they were adding them at a rate of more than 50,000 a day. The level of engagement increased, too. What's getting better is how Zuckerberg navigates his relationship with Facebook's users. Every announcement on privacy settings will attract even more scrutiny. And not just because Facebook will be a publicly traded company but because it will only keep growing. Facebook should break the 1-billion-user mark by the end of the year.
"I think it's our job to be ahead," Zuckerberg once told me. "I think we're the leader in the space because we have been ahead historically."
Our investment -- Facebook's users investment -- has brought Facebook to where it is now, on the brink of a mammoth IPO. How Facebook continually iterates and evolves -- and how much it's worth -- depends on how carefully and respectfully Zuckerberg follows and leads. Because at the end, the 28-year-old will answer to more than the ups and downs of the stock market. When it comes to privacy and identity, Zuckerberg answers to us.
REAL LIFE. REAL NEWS. REAL VOICES.
Help us tell more of the stories that matter from voices that too often remain unheard.