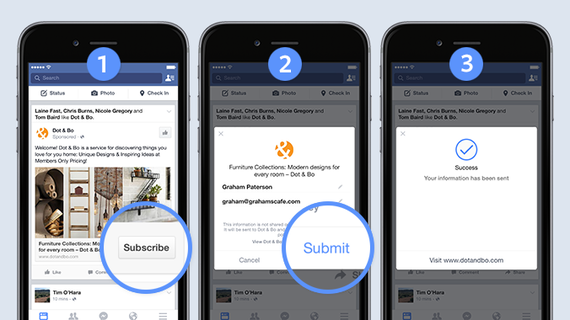 Every once in a while, Internet marketers get a new break via a procedure, software, change in laws, etc..
These advantages can totally alter the game plan for the better and generate opportunity and income to levels of astonishment. This may well be the case with new Facebook Lead Ads.
Facebook Lead Ads is a dream come true. It not only advances the marketing realm but the social media realm as well.
It's as though there was a genie out there that made marketers' wishes come true and getting the fundamental knowledge of what they are and what they can do will change your life for the better.
This new process cuts through the muck and drudgery the old system of building landing pages, asking for opt-in emails, additional sales pitches regarding products and services a marketer is trying to sell.
It also adds to the efficiency of the email list, which anyone in internet marketing can tell you, is one of if not the most important resource you can have.
Your email list is your lifeblood, containing the opt-in emails from hundreds to thousands to even millions of people worldwide who have an interest in what you have to say, promote, sell.
This is where this new Facebook feature comes in handy.
It allows the Facebook user to look at your add and just click one button and their email address is automatically added to your email list as well as their basic personal information such as location.
In the previous ways, one would have the surfer click a link, go to a landing page, read all sorts of sales promo, click another link to either join your email list or some other action, all leading up to the possibility of them being a solid lead.
Now, surfers can just click and be one with you.
This new feature is going to save tons of time and money and frustration.
Your sales lead is undeniably yours and they don't have to leave Facebook once they've joined.
The surfer can keep on using Facebook without interruption thus creating a sense of comfort and efficiency marketers have dreamed of for years.
Just think of it, you create your ad and it appears in people's Facebook feed with a sign up link right then and there. No mess, no bother.
Remember, this new feature doesn't have the now prehistoric way of doing things like creating content, your sales landing page, your email sign up form, and more.
You don't need to program anymore forms and add on bells and whistles. Your surfer just sees that targeted ad of yours and you're good to go.
You'll still need your salesmanship skills though for your ad and that takes expertise and talent.
The benefit here is that after the surfer finds you ad enticing and clicks your ad link, you've got them and now comes time for using your additional sales strategies to really hit them with the goodies and haul them in.
This new feature may be the breaking ground for even more efficient and astounding ad features.
As time goes by. The statistics will prove whether the Facebook Lead Ads are boosting sales opportunities across the board.
In the meantime, it's not difficult to study how to use this feature. Get educated now and get a move on implementing it. It could be the breakthrough you've been looking for.
REAL LIFE. REAL NEWS. REAL VOICES.
Help us tell more of the stories that matter from voices that too often remain unheard.