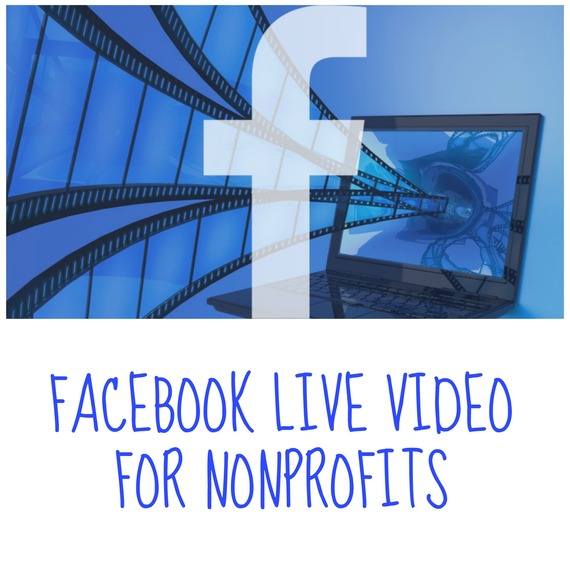 Facebook recently added the ability to livestream (live video) on Facebook, catching up to the explosive popularity of livestreaming apps like Periscope. While Facebook Live was recently only available for celebrities and then some early livestreaming adopters, it has now rolled out this feature to everyone with an iPhone in the US, and plans are that Facebook will roll this out to the rest of the world in the coming weeks. We can only predict that a version for Android will be coming soon as well. Now, the thing is that Facebook Live Video is available only for individual profiles and for verified pages. Verified pages receive those little round, blue checkmarks right next to their names.
So what does all this mean for nonprofits who rely on Facebook to communicate with their Facebook fan communities? Here's a quick breakdown:
The most important thing to know is that even if your nonprofit has a Facebook page, it doesn't mean you can start broadcasting. Your nonprofit's Facebook page needs to be a verified page (at least for now), in order to use this new feature. Here's how you can start the verification process for your organization's page.
1. You can only broadcast from your iPhone, not your PC or desktop. As you'll see the live video icon will only appear on your Facebook status update bar on your mobile phone.
2. As of this publishing date, Facebook Live Video is available only for US-based iPhone, but a little experimenting with the app over the weekend helped me figure out that your Android-user fans/friends, also get a Facebook notification when you go live and can watch, as do iOS users.

3. Here's a photo of where to find it on your status update bar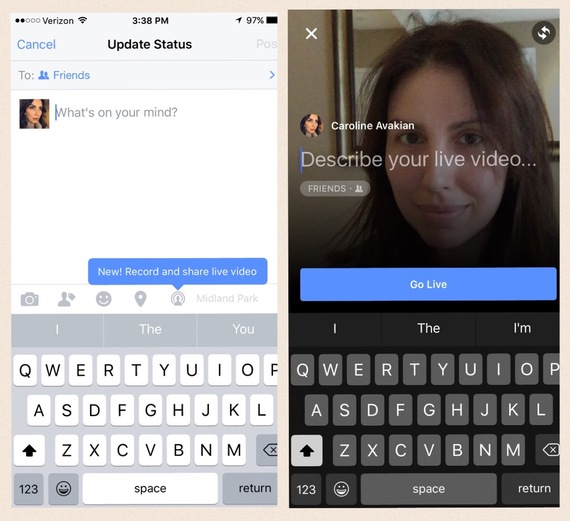 4. Once you're in, Facebook will ask you permission to access your camera and microphone. You can then select which of your Facebook audiences can join your live video, and they can comment/like your live videos while the video is in progress. You can flip the camera angle to face you or right in front of you, via a little arrow icon provided on the top right corner of your phone screen. The comments and likes from your community will appear directly below your video as you're broadcasting. When you've completed your broadcast, you have the option to save the video to your phone's camera roll, and the live video recording will automatically save to your Facebook timeline.
5. The downside right now is that Facebook Live doesn't yet integrate with Facebook Pages - a mobile app that helps you manage your Facebook accounts - which is the most logical way a nonprofit would start trying to stream video. Hopefully, that is coming to us soon.

5 Ways Nonprofits Can Maximize Facebook Live Video

1) Facebook Live Video from "the field"
If the bandwidth is there, we've just opened up a great way for communications and program officers to broadcast field visits abroad and beneficiary interviews (when appropriate). The same goes for local nonprofits who really have the capacity to live stream important "mission moments" that might otherwise go unshared.
Facebook Live Video offers a great new way to connect with your Facebook supporters by having the ability to conduct livestream Q and A's with your program participants, executive director, program director, celebrity ambassadors, and others. The comment function allows your Facebook fans to ask questions or post commentary as you're livestreaming, so it's exceptionally interactive and relatively fast. Think about a Facebook Live series - doing a series of light 'Meet the Staff' Q & A's, or designating a portion of your weekly staff meeting to a Facebook Live Video Program Update and short Q and A afterwards. That's a great way to let your supporters know ahead of time what you'll be doing and what to expect.
Facebook Live Video is a great way to let your supporters in on events that they're interested in but can't attend. That $500 per plate gala dinner can now be accessible via Facebook Live Video. How great would it be to have a staff or volunteer correspondent at your next benefit, fundraiser or conference, in charge of showing viewers around and chatting with honorees and guests? It's a fantastic way to share these exclusive events with your Facebook community.
Attending a rally, friend-raiser, or other on site event for your nonprofit - bring your supporters along with a livestream on Facebook.
Another way to break the fourth wall, is to do an office tour led by your staff and interns. Showing the inner workings of your organization and the people behind the status updates, has been shown to increase engagement and trust for nonprofits.
If you're looking to get some quick feedback on a new project, logo, initiative or maybe just some input on what your supporters like and would like to see more of, Facebook Live is a great tool to survey a clearly social media savvy focus group.
Have an announcement to make? Did you just receive a big grant from USAID or added an awesome new hire or volunteer to your team? Expanding your work to a new country? Added a new program? Did you host a contest and want to announce the winner? You can use Facebook Live Video to go live with your big news and involve your community more directly.
Nonprofit Best Practices for using Facebook Live:
1. Be prepared before you click the "GO LIVE" button. Given it's an amateur live broadcast you do get some leeway, but try to be as steady with the shots and as well-prepared as possible. You don't want to necessarily script the broadcast but remember that you're telling a story. So what is the story you want to tell? Why have you asked people to come and watch this broadcast? What value does it have? What's in it for them? Make sure you can answer those questions. Also, provide some guidance to your viewers as to what type of questions or feedback you're looking for. Engage them. Remember live video is still social, so it's a two-way conversation. Viewers may be hesitant to use the comments section of the video, so make it ok by prompting them to do so. Any good story has a beginning, middle and end to it, so it's a really good idea to create a bullet list of what you want to happen during each stage of the broadcast, to ensure everyone on your team is on the same page. Above all, remember, all good media production rules still apply.
2. Title your Facebook Live Video broadcast well. Tell us what it's about in a concise way.
I think Facebook Live Video has great potential for nonprofits. Live video can take engagement to a whole new level and if the bandwidth is there, give nonprofits and global NGO's the ability to share the on-the-ground work that is being done. Many nonprofits have been reluctant to try Periscope and other livestreaming apps because they are hesitant to add a new tool and they're unsure how to use it effectively and appropriately. Having live video available right from your organization's existing Facebook page is a way to introduce broadcasting to an audience that knows you well without having to download, learn and keep up with an entirely new tool.
From another perspective, I wonder how many nonprofits will be comfortable with the risk inherent in live video? While we're seeing so many nonprofits using social media wisely and experimenting, most nonprofits still like to have tight control and management over any content they produce. As we have seen in the past, nonprofit teams that are more comfortable with risk and social sharing will help pave the way for other organizations who will wait until this tool is less new and seemingly less risky. Ultimately, lack of complete content control and the inability to quickly seed out inappropriate comments will present the biggest barriers for a nonprofit's use of Facebook Live. As of today, you can't block people right from their comment on the live video, like you can on Periscope. Hopefully, that will change soon.
Lastly, for organizations already comfortable with video, being an early adopter of Facebook Live may present a wonderful opportunity to produce more live video and offer your Facebook audience a chance to see and hear more than traditional social media updates allow for. Live Video is dynamic, fast, and unedited visual storytelling. Definitely a new frontier for nonprofits wanting to explore storytelling, organizational transparency, and community building.
I will be featuring nonprofits and NGOs using Facebook Live in creative ways in a future post, so please let me know in the comments below of any nonprofits you know that are using it to engage their supporters.
Related
Popular in the Community