 Some day in the near future you will read these words, tucked between headlines about the iPhone 10 and President Donald Trump's first 100 days in office: Mark Zuckerberg Becomes World's Richest Man. And you will have only yourself to blame.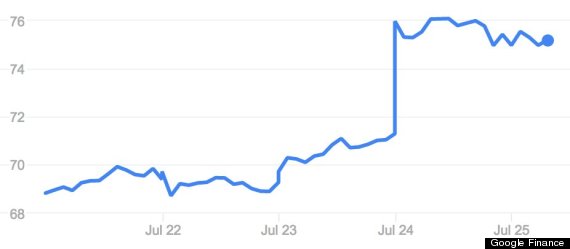 Facebook had a very good week.
By the end of Thursday, Zuckerberg was richer than fellow computer nerds Larry Page and Sergey Brin, co-founders of Google. He was richer than Amazon CEO and Lex Luthor clone Jeff Bezos.
Probably not far off, if things keep going this well.
Facebook's stock was trading at $34 this time last year. Today it sells for $75. Fortunately for Zuckerberg, he has managed to hold onto 22 percent of Facebook, again according to Bloomberg -- a larger stake than Page, Brin or Bezos have in their companies.
Facebook already has more stock-market value than Amazon, and some day the little social network could be worth as much or more than Google, which now has a market value of almost $400 billion. Zuckerberg's share of a Facebook worth $400 billion would be $88 billion -- or $3.3 billion more than the current net worth of world's richest man Bill Gates.
Basically, Facebook is making tons of money because you can't stop using it. The shift from people going online with their laptops to people going online with their phones was supposed to kill Facebook, but Zuckerberg focused Facebook's energy and attention on making an irresistible mobile app. As a result, most of the $2.7 billion Facebook made in ad revenues in its latest quarter came from ads on cell phones.
What is the only thing stopping Facebook -- which is based in a Wonderland called Silicon Valley, where money is meaningless -- from being worth $400 billion? You, and your decision to keep logging onto Facebook, is basically the only thing.