 Facebook is betting you love talking to your Facebook friends so much that you'll download an entirely separate app for the privilege.
The company is in the process of notifying Facebook users of the switch, a spokesperson told The Huffington Post. Some people got an email this week asking them to download "a free app that's faster and more reliable for everyday messaging." On the Facebook app itself, a friendly little otter is prodding people to download Messenger.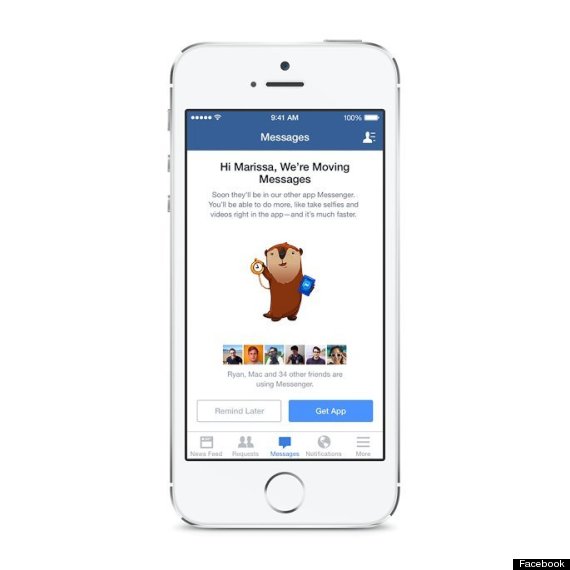 Facebook put out other little reminders, too...

If you've been following Facebook news, you wouldn't be surprised about the switch. Facebook first started talking about it in April.
With 200 million Facebookers chatting every month, messaging is one of the most popular activities on the social network. So what's the wisdom behind slicing the app into two? The answer, as is the case with so many of Facebook's decisions, is that the additional app will get you to spend more time with Facebook and, in turn, give it more information about you.
Facebook decided to make the change after finding earlier this year that people in Europe responded 20 percent faster to messages on Messenger than they did through the site's flagship app, Facebook told HuffPost. They also sent more photos, videos, stickers -- basically, everything -- if they had Messenger. An app built specifically for messaging, according to Facebook's thinking, is just better to use.
All those extra sent messages only feed the data monster, making it easier for Facebook to show you ads you'll be interested in. The dual-app approach also means it's more likely you'll have at least one Facebook-owned app open on your phone at any time. That lets the company lurk in the background and record other information, like your location, even when you don't have the compulsion to check your News Feed.
By attempting to become a multi-headed hydra of apps, Facebook is following in the footsteps of Google, which already has separate apps for search, Gmail, Hangouts and Google+. Facebook paid billions to buy WhatsApp and Instagram and spent millions to make Slingshot and Poke, two photo-sharing apps that have so far failed to gain a following. Now by splitting off Messenger, Facebook is proving it wants as much real estate as possible on that little rectangular screen of yours.
Popular in the Community