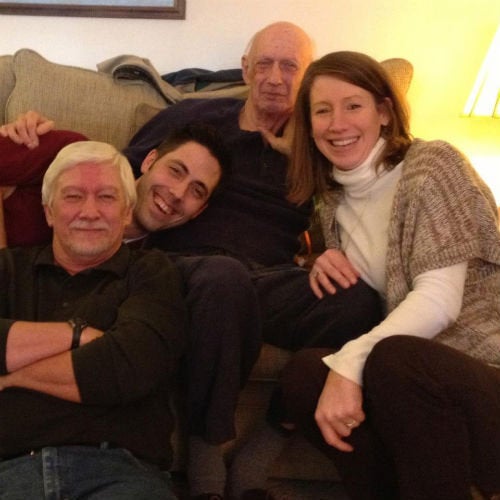 Around 8 p.m. on a Wednesday, my mother called me in a panic from Florence, S.C. She said my 74-year-old father, Warren Baird, was missing. It was December 12, the day the Mayans predicted would be the end of the world.
My mom, June, had come home that afternoon to an open garage door and no sign of my dad or his car. Typically this wouldn't be a big deal, but over the past few years my dad had begun to show signs of memory loss. When he hadn't turned up by dinnertime, she knew something was wrong.
I live about five hours away in Ball Ground, Ga., just outside of Atlanta. I arrived in Florence around 3 a.m. and entered the living room to find my mom and sister, Nikki, quietly staring at one another and crying. They had called the police and filed a report, but because of the late hour and limited resources, the police could not conduct a full missing persons search until the morning. We felt so helpless.
I tried to sleep, but it proved impossible. I wanted to do something -- anything -- to get people looking for my dad.
Luckily, Florence was my childhood home. I started sending out emails and Facebook messages to friends and long-lost acquaintances still living in the area, asking to keep a look out. After a while, I worried that my hurried messages, sent in the middle of the night, wouldn't look like a legitimate plea for help, especially as some people had not heard from me for more than 20 years. What if they mistook it for a scam? So I created the "Help Find Warren Baird" page on Facebook and began sending it to anyone and everyone I knew.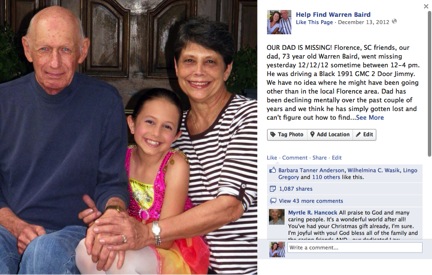 Just a few hours later, more than 300 people from around town and throughout North and South Carolina and even Georgia had already connected with the page. Complete strangers started to comment, promising to share our posts or look around their areas for my dad. At first, I worried the police would be upset with me for trying to take the investigation into my own hands. But the reality was we had no idea which direction Dad had gone when he left the house and therefore no one, including officers, had an idea where to start looking. Collectively, we hoped this page would give us our first lead -- and it did.
Around 10 a.m. that morning, a friend from high school shared a post about my dad's disappearance. A man who worked a local lighting store recognized him and called the police. He said my father had been in his store around 2 p.m. the day before, but unfortunately they could not help him with what he needed. They sent him to another local store, a place outside my dad's normal traveling routes. We immediately checked with the manager of the second store to discover he never made it there.
Still, we had a clue. After we posted the lead to Facebook, people responded immediately, telling us that they'd head out to start looking. One woman back in Atlanta even began calling local businesses asking them to share the page to their own Facebook Timelines and to keep an eye out for my dad. Some of these people were complete strangers who nonetheless wanted to do anything they could to help. Local news outlets started covering our dad's disappearance online and on Facebook, and directed reporters to contact us for phone and live interviews.
Finally we got the call we had been praying for around noon on Thursday. A family in Latta, S.C., saw an elderly, disoriented man sitting in a car parked on the road leading to their house. (Latta is about 25 miles outside of Florence.) That same family saw a Facebook News Feed post from a local news station about our search for Dad and called the Highway Patrol. They posted later they had stopped to check on him and he seemed very disoriented, prompting them to call the police. Their quick and intuitive response helped save his life. We were very thankful for families like theirs that still take time to look out for their neighbors. It let us finally bring him home.
When we got to Dad, he was in pretty bad shape -- dehydrated and weak -- but he was alive. He couldn't stand or walk on his own and was very disoriented and confused. Thankfully the patrolman that found him stayed with him until we could get there. Going above and beyond his duty, the officer helped get Dad into his car, jumped his now-dead battery, and even syphoned gas into his car, which had run out hours before.
After a brief ride home, we took Dad to the E.R. He was immediately admitted and test results revealed he had meningitis, suffered a heart attack and had a compounded fracture disc in his back. We were stunned. He had just mowed the lawn the day before he disappeared. My mother was wracked with guilt about leaving him alone, but until that day, he had never given her a reason not to. It was hard to accept that a man who was physically well enough to push a lawn mower was too weak to walk just two days later.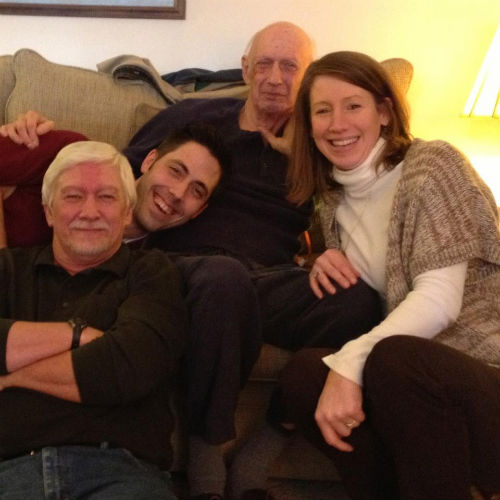 Pictured: (Right to left) Rick Baird, Van Baird, Warren Baird and Nikki Baird. The Baird family on Christmas day, after their father, Warren, was brought home from the hospital
Looking back, we're thankful that the experience forced us to recognize Dad's health problems. It was a wakeup call to all of us that life as a family would be very different -- and he's so much healthier now because of it. There are good days and bad days. Sometimes he has trouble remembering conversations that ended just five minutes ago, and we're all learning to deal with the emotions that come with a loved one's mental disintegration. Dad has a daytime care giver while my mom is at work and he has resigned himself to the fact he will not drive again. My parents are walking through a different season of life now; but they are walking it together, and it has brought us all closer together. Honestly, I think I've spoken to my parents more since December than I did in all of 2012.
My dad came home on Christmas Day and those people (those close to us and those we'd never met) who felt so personally involved with our story on Facebook commented to congratulate us, telling us how happy they were that he was safe and sound. In a world where bad news seems to be everywhere, it felt like the happy ending all of us needed, and Facebook helped make it possible.
Calling all HuffPost superfans!
Sign up for membership to become a founding member and help shape HuffPost's next chapter