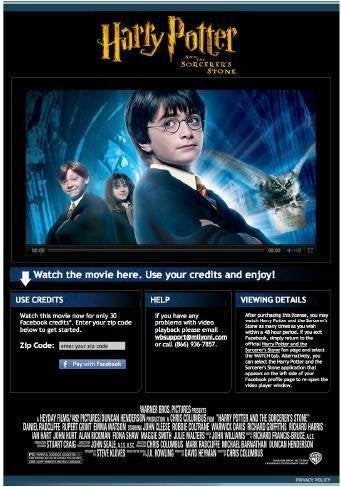 In a move that signals new frontiers for both Facebook and content creators, Warner Bros. has announced it will be making five new, high-profile movie titles available for rental and streaming via Facebook.
In early march, the Hollywood studio said it would begin testing digital movie rentals via Facebook, becoming the first to do so, according to the Hollywood Reporter.
"The Dark Knight" was the first title to be offered on Facebook. Warner Bros. said in a statement that it will "expand its test offering of movies for rental through Warner Bros. Entertainment's Facebook Movie Pages" with "Harry Potter and the Sorcerer's Stone," "Harry Potter and the Chamber of Secrets," "Inception," "Life as We Know It" and "Yogi Bear," all of which were available starting at 10PM PT March 27.
Renting the movies costs around 40 Facebook Credits (approximately $4) each and users can watch the titles as frequently as they'd like during the 48-hour rental period. Rentals are available from the movies' official Facebook Pages.
Related
Popular in the Community