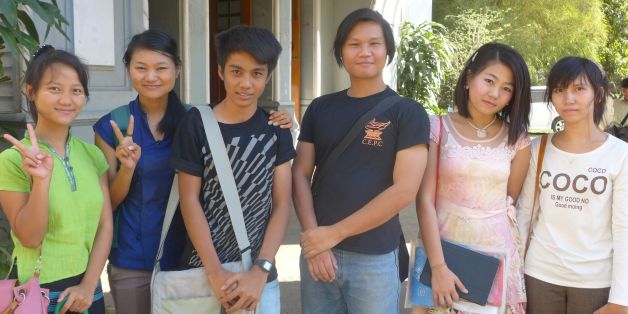 YANGON, Myanmar -- Eh Thaw Taw -- "Royal" to his Facebook friends -- relies on his Huawei smartphone for the usual message-sending, picture-taking and status-updating, but he never, ever uses Google for the simple reason that he doesn't know how.
"I can't search," the 24-year-old says, thumbing his phone as we stand under trees on the Yangon University campus, which reopened last fall after being shut down in 1988 by a military regime wary of protests. What if Royal, an economics major, needs to look up, say, the gross domestic product of the United States? "I ask my teacher, who will search for it," he answers.
Royal's classmate, 20-year-old E Lawm Nap, is appalled. "In this century, every person can use website or the Google!" she chides him.
But then again, this is Myanmar, a country that only three years ago had a lower cellphone penetration rate than North Korea, and even now enforces a policy of one SIM card per family. It's a country where computer schools still lack computers; text messages can take two hours (or two days) to arrive; and Royal is forced to be nocturnal, since the only reliable Internet connection he can get is from midnight to dawn.
At the same time, it's a place where smartphones have spread so quickly and so suddenly that even 20-somethings have had whiplash. Since 2011, when Myanmar's military dictatorship announced a shift toward "disciplined democracy," Yangon has, in tech terms, leapt from 1999 to 2014 -- from flip phones to Facebook -- in the span of about 36 months. (Other cities still lag far behind Yangon, however.) The nation's cellphone penetration jumped from 2 percent in 2011 to 10 percent the following year.
I sneaked into a back entrance of Yangon University, which prohibits foreign visitors, for a glimpse at how students in Myanmar have adjusted to this new life with Samsung. In some respects, they're like college kids anywhere. The girls in Royal's English class love Candy Crush, WhatsApp, Skype, YouTube and Viber, an app for placing calls overseas. They all use Zapya, an app that lets friends exchange files phone-to-phone via WiFi, so they can avoid paying for apps, songs or Internet access. A few rehash familiar complaints about Facebook.
"In Burma, almost all students use Facebook to check each other. I don't like that," E Lawm Nap says.
But with the Internet still in its infancy, Royal and his friends have had to piece together what they know about the Web mostly by word of mouth. They certainly can't turn to their parents -- "people from the past," scoffs Royal. Sharing tips friend to friend has at once proved highly efficient and less than reliable, and there have been misunderstandings that come with a piecemeal grasp of the Internet. As a HuffPost blogger recounted, you can ask a room of people if they use email, and no one will raise a hand. Ask who's got Gmail, and all arms will go up.
Perhaps chief among the confusions is the tendency to mistake Facebook for the entire Web.
"The users are quite funny here," says Thar Htet, 29, the founder of a Yangon-based startup that creates mobile apps. "They're thinking that using Facebook is using the Internet."
"They use lots of games and apps," he adds, "but they've never really experienced the Web."
Yangon can feel like a city of Facebook addicts. Though smartphones still cost a bundle relative to the average income, they're everywhere on the streets. Couples lounging on park benches stare at Facebook instead of speaking to each other. Men scroll through their News Feeds while eating dinner on the sidewalk. I saw an elderly woman engrossed in the Fruit Ninja game, the volume cranked up on her phone.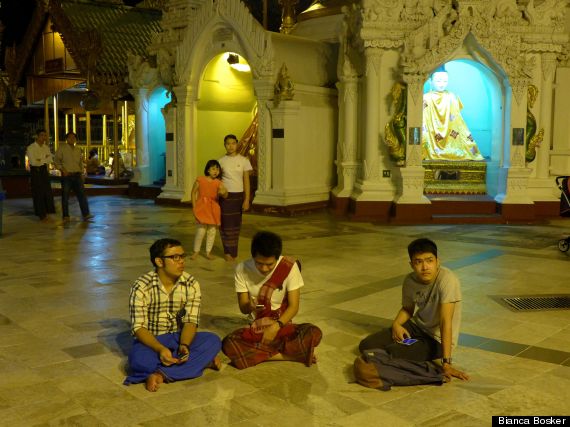 People sit with smartphones at Yangon's Shwedagon Pagoda, a sacred Buddhist site.
Royal says his teachers have to turn off the WiFi in his school's building to prevent "naughty" classmates from Facebooking during class.
"Facebook is a really time consuming thing," agrees Thar Htet, who's likewise set up the Internet router in his office to block Facebook.com from 9 a.m. to noon and 1 p.m. to 4 p.m. daily. "Productivity really suffers because of this distraction."
Since launching in Myanmar in fall 2011, Facebook has assumed the role of Amazon.com, Gmail, Dropbox and a government propaganda apparatus, all in one.
Merchants in Myanmar set up virtual storefronts on the social network, where they hawk iPhone cases or smuggled designer denim. Royal uses Facebook in place of Gmail, which, like Google, he says he hasn't been able to master. Naw Say, a 26 year-old former journalist, doesn't share much on social media, but uploads all her photos to Facebook so she'll have a back up if her computer crashes.
"If you want to vote for the people who most use Facebook," said Yangon Media Group chairman U Ko Ko at a conference in Myanmar last month, "I think we will win the first prize."
Which might actually be a problem. Journalists from Myanmar, who spoke at an event in Yangon on press freedom in March, express concern that their country's eager social media adherents might, in the wake of political reforms, be taking their new freedom of speech too far. People have learned how to share on Facebook, but not what to share on Facebook, the reporters explain. As the nation's Facebook members embrace their new right to say anything -- while not knowing the consequences of yelling "fire" in a crowded social network -- Facebook has turned into a conduit for violent rumors, bigoted threats and deliberate misinformation that has inflamed tensions between Myanmar's ethnic minorities.
"People have been under a dictatorship for a long time. Now, after the government allowed them to write whatever they like, you see a lot of people just write whatever they like and it becomes hate speech," says Naw Say. "They think the government allows that, so they can write whatever they want."
In fact, the government may even be encouraging hate speech, depending on whom you ask. There's speculation that official agencies are seeding the violent propaganda, or, at the very least, condoning the misinformation. If fighting breaks out between ethnic groups, the government will have an excuse to intervene, assert its power, and, it may hope, look like a hero even as it claws back control.
The government "want[s] the people to get angry and to fight each other, so they will come and solve, so they will have a good name," says Naw Say.
The spread of technology has given rise to many more conspiracy theories focused on interference by officials. Yangoners whisper that bureaucrats are deliberately squelching cellphone speeds in an effort to stymy the spread of information in the city. In Myanmar's capital, Naypyidaw, the military-turned-civilian administration enjoys superfast 3G service, I'm told. In Yangon, the nation's business center and largest city, downloading a photo can take an afternoon.
I ask Royal if he's satisfied with the pace of Myanmar's reforms.
"Still not fast enough," he says. But he adds, "I don't know, I'm not a politician."
"We're not interested in political," his friend explains.
Before I leave the group so they can rehearse a PowerPoint presentation they'll give in class the coming week, I ask what they plan to do when they graduate. E Lawm Nap is studying theology. Another girl hopes to design websites. Royal's plans are simple.
"I will search money," he says with a grin.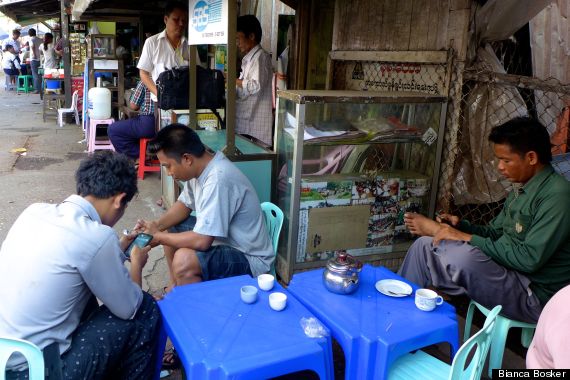 Men in downtown Yangon consult their phones.
REAL LIFE. REAL NEWS. REAL VOICES.
Help us tell more of the stories that matter from voices that too often remain unheard.