Facebook and Instagram allow prominent neo-Nazis and white supremacists to profit off their platforms, letting them sell merchandise such as children's T-shirts with slogans saying "White baby ― the future of our race."
Last month, Facebook removed White Rex, a Russian-owned neo-Nazi clothing company, from its platform after HuffPost reported on the company. But at least three other brands including Sva Stone, Ansgar Aryan and Pride France, still maintain Facebook pages. White Rex is still on Instagram, which is owned by Facebook.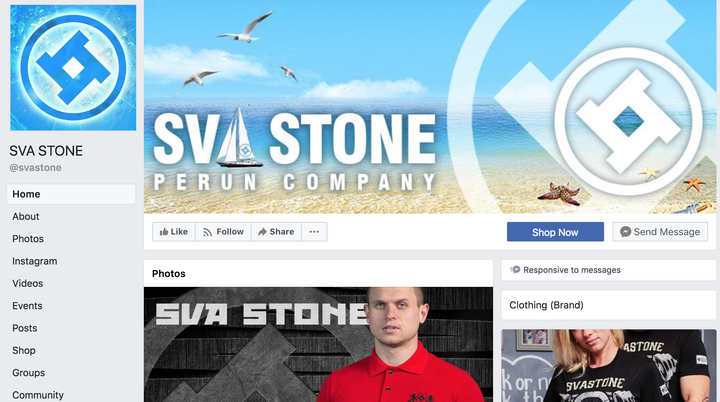 The proliferation of white supremacist businesses on Facebook is more evidence of the social media giant's inability to rein in radicalism and hate on its platform. Some of the clothing brand pages HuffPost identified have also been suspended or banned in the past, demonstrating the shortcomings of Facebook's whack-a-mole approach to extremism.
The clothing labels routinely use variations of well-known Nazi symbols and coded references in their products and Facebook posts but generally shy away from direct calls to violence or explicitly hateful rhetoric. Their support of white supremacy, however, is obvious after even a brief scroll through these pages.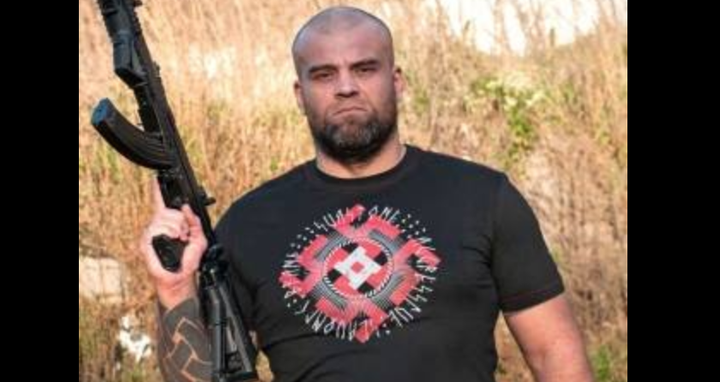 In an interview with Recode last month, Facebook CEO Mark Zuckerberg used Holocaust denial as an example of the kind of speech the company shouldn't take down because it is "hard to impugn intent and to understand the intent." After Jewish groups and anti-discrimination groups criticized his statement, he apologized.
The German brand Ansgar Aryan, which has more than 16,000 Facebook followers, uses a thinly veiled HH symbol as one of its logos and repeatedly refers to the number 88. Both are common references among neo-Nazis to the phrase "Heil Hitler." Another shirt features a hooded Klansman holding a rifle with the slogan "We want you to enlist today."
In a post on July 13, Ansgar Aryan offered a free issue of the magazine National Socialism Today to anyone who bought more than 50 euros' worth of merchandise from the brand's store. The magazine featured convicted Holocaust denier and right-wing extremist Ursula Haverbeck on its cover. When a HuffPost reporter flagged Ansgar Aryan's page for hate speech, Facebook said the content did not violate community standards.
Ansgar Aryan is run by Patrick Schroder, a German neo-Nazi and member of the extreme-right National Democratic Party. Schroder is part of Germany's "nipster" or neo-Nazi hipster subculture, which attempts to put a less violent facade on its extremist ideology, but Ansgar Aryan's official website still sells knives, bats, pepper spray and ski masks.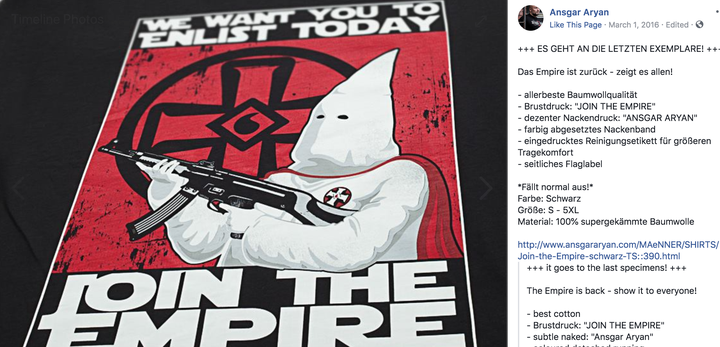 Schroder isn't the only well-known white supremacist to use Facebook to build their brand.
Sva Stone, for example, is owned by a prominent Ukranian neo-Nazi named Arseniy Bilodub. It has more than 20,000 followers on Instagram and around 7,000 on Facebook. Sva Stone's clothing includes symbols that mimic the Nazi SS logo and feature modified swastikas. It also makes a line of T-shirts with its swastika-like logo and the slogans "white boy," "white girl" and a children's size "white baby."
"Generally, it's worn by neo-Nazis around Eastern Europe," said Pavel Klymenko, a monitor of extremism and researcher at the FARE Network, an organization that tracks far-right hooliganism and discrimination in soccer.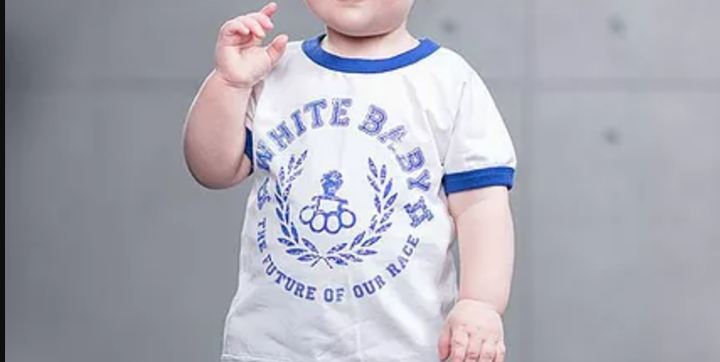 Sva Stone also uses Facebook to promote white supremacist music festivals featuring Bilodub's metal band, Sokry Peruna. A video from a Sokry Peruna concert in April shows Bilodub performing on stage next to a Sva Stone banner as a crowd of skinheads give Nazi salutes. Photos from the event also show people waving Nazi flags, as well as wearing swastika shirts and Sva Stone and White Rex clothes.
"[Bilodub is] somewhat of a patriarch of the Ukrainian Nazi music scene," Klymenko said. "His music has always been hardcore neo-Nazi, with texts like 'kill the monkey,' 'kill the immigrant.'"
Sva Stone's connections to Nazism and support for white supremacy have not prevented the company from running its Facebook page for more than four years. The group sells T-shirts that cost around $15, using the platform's shop feature.
"We have good relationship with Facebook," a representative from Sva Stone told HuffPost in an email.
The company denies it is a political movement or supports any ideology. It also refused to comment on how much money it has made from its Facebook shop.
"Our focus now is on Russian invasion to Ukraine and we are involved in help to benevolent battalions and groups defending Ukraine," Sva Stone said.
One of Sva Stone's Facebook posts celebrates the ultranationalist Azov Battalion, a powerful Ukrainian militia whose neo-Nazi membership prompted the U.S. Congress to issue a ban on funding earlier this year. Bilodub has ties to leaders of the Azov Battalion, Klymenko said, and militia members often wear Sva Stone clothing.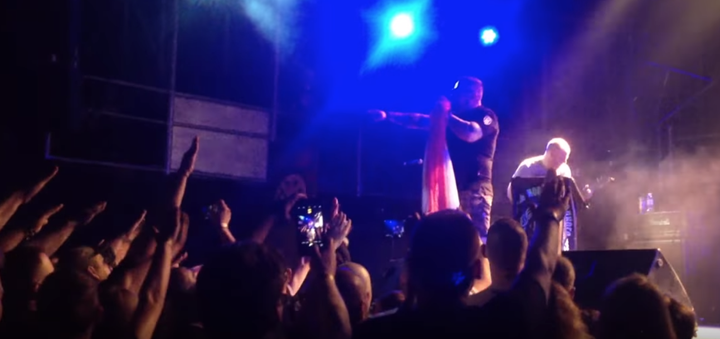 Many of these extreme-right brands are also involved in Europe's neo-Nazi mixed martial arts scene and promote underground white supremacist fighting tournaments throughout Europe. Russian neo-Nazi and fight promoter Denis Nikitin, who owns White Rex, is a major organizer and cheerleader for these events.
"Mr. Nikitin admires Dr.Göbbels' dedication and devotion to the Idea of National Socialism," a representative from White Rex told HuffPost. White Rex, however, denied that Nikitin ever had a framed photo of Joseph Goebbels in his bedroom, as was previously reported in The Guardian.
The company said it has no stance on the Holocaust, and did not return a request for comment on whether it denies up to 6 million Jews were killed in the Holocaust.
Nikitin met earlier this year with American white supremacists who now carry White Rex clothing in their own online store. Other extremists have sought to start clothing labels based on the models of Bilodub and Nikitin.
"Now almost any small hooligan or neo-Nazi who has got more than 10 friends is trying to make his own clothing," Klymenko said.
Facebook is aware that extremists are using its platform to profit from and promote hateful ideology, and has banned far-right and Islamist extremist groups numerous times. But the company is unable or unwilling to keep these kinds of pages permanently off its platform.
White Rex had two of its pages removed in the past, according to a Facebook spokesperson, but somehow managed to start a new one that lasted for three years and gained almost 13,000 followers. A post from clothing brand Pride France encouraged people to tell their friends about the page so it could get its numbers back up to where they had been before Facebook took down its previous page.
Facebook and Instagram did not immediately respond to requests for comment on why these white supremacist clothing labels have been allowed to operate on the platforms and how much money the brands have made through the platforms.
The social media giant is having one of its worst months on record. Facebook's stock price plunged by about 19 percent last week after the company released an earnings report that showed sluggish growth and sales. Facebook lost around $120 billion in market value in the crash.
Ansgar Aryan and Pride France did not immediately return requests for comment on their ideology and relationship with Facebook.
UPDATE: 4 p.m. ― Facebook and Instagram unpublished several of these pages a few hours after HuffPost initially published this story.
As Facebook has done with other offensive pages in the past, the company removed the offending pages from its site only after a news outlet, this time HuffPost, directly reached out to a spokesperson for comment prior to publication of an article.
Sva Stone's Instagram, which has over 20,000 followers, is still online.
Popular in the Community