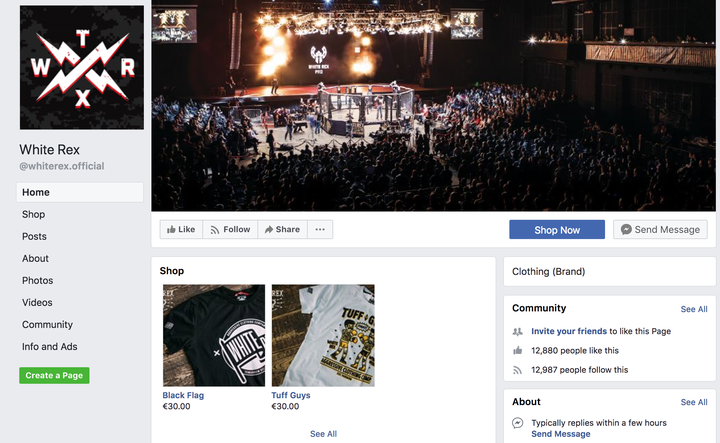 UPDATE: 4:15 p.m. EST ― Until Thursday afternoon, Facebook had allowed a prominent Russian neo-Nazi to run a white nationalist clothing label, White Rex, on its platform for at least three years. A few hours after HuffPost initially published this story, Facebook unpublished the White Rex page.
As Facebook has done with other offensive pages in the past, the company removed the White Rex page from its site only after a news outlet, this time HuffPost, directly reached out to a spokesperson for comment prior to publication of an article. A Facebook spokesperson said the social media platform had previously unpublished the White Rex page twice, but provided no details on when these removals occurred or why the latest version had remained up for so long.
Facebook has allowed a notorious Russian neo-Nazi to run a white nationalist clothing label off its platform for at least three years, giving him a space to promote events, sell T-shirts and spout hate to thousands of followers.
Denis Nikitin is a Russian neo-Nazi soccer hooligan and mixed martial arts fight promoter, who in recent years has attempted to grow his influence across Europe and in the United States. He is also the founder of White Rex, a clothing brand that openly supports white nationalism and whose logo is a mix of the swastika with other far-right symbols.
White Rex is currently selling some of its T-shirts for around $35 a piece on an actively updated official Facebook page that has almost 13,000 followers.
When HuffPost twice reported the page for hate speech in recent weeks using Facebook's tool for flagging inappropriate content, Facebook said White Rex did not violate the company's community standards.
That Facebook is letting a neo-Nazi promote and profit off its service is a particularly conspicuous example of the social media giant's struggle to contain extremism. While Facebook has made attempts to crack down on larger radical groups, and banned prominent white nationalists including Richard Spencer, it also has ignored or overlooked others such as White Rex.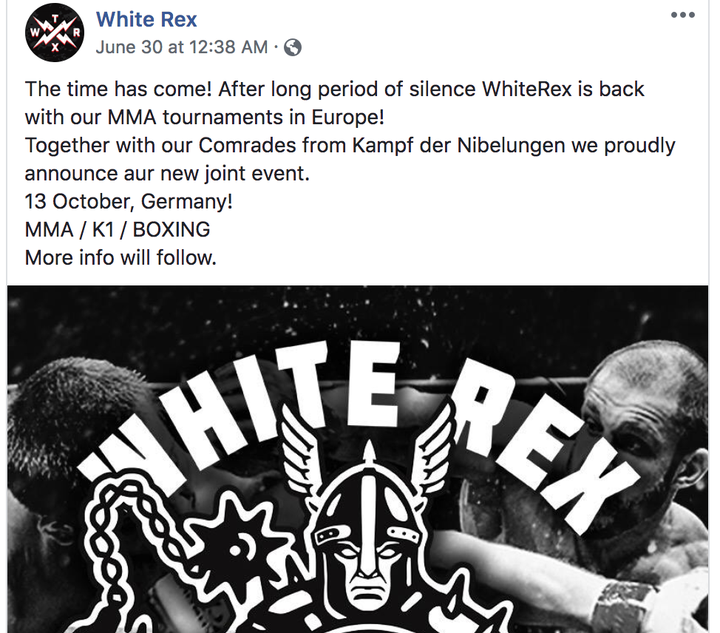 When viewed in isolation, many of White Rex's posts don't immediately look like they are promoting white nationalist ideology. Not every post contains a direct call to violence or an explicit reference to Nazism. Rather, the posts and the products traffic in Nazi symbolism and coded references. A post from last September features a woman modeling a T-shirt with the Facebook caption: "SS for Sweet n' Sexy."
But some posts on the page include more obvious support for neo-Nazi ideology such as the "14 words" ― a popular racist slogan about protecting the future for white children ― while others promote products such as a White Rex-branded knife to "cut your rivals down." Another post shows a man in a White Rex T-shirt aiming a Nazi-era Sturmgewehr 44 rifle.
The page also advertises Nikitin's MMA tournaments and links to White Rex's other sites, which carry some of the brand's more overtly violent material. One video White Rex posted and promoted on its Tumblr page is titled "Mad Max vs gay immigrants," and shows a car ramming into two men. Another post has the slogan "White Heterosexual Reactionary Xenophobe" underneath an alternate logo for White Rex.
"White Rex is not just 'another patriotic clothing brand,' no, we established the whole MMA scene within the movement," says one post from 2017 that celebrates the label's ninth anniversary.
White Rex claims it was incorporated on "14.08.08," a reference to both the 14 words and the number 88 ― common shorthand among white nationalists for "Heil Hitler." Anti-Islam and anti-migrant posts are common on the page, and Nikitin himself plays a central role in the brand's marketing.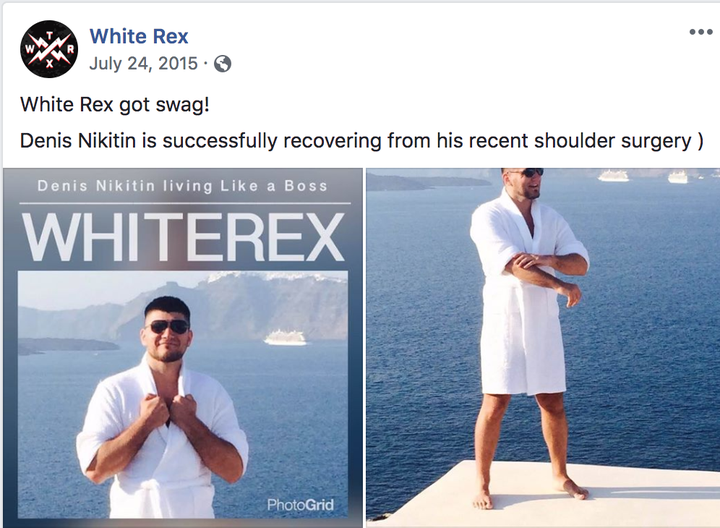 There is little public information available about Nikitin's background and personal history. He is in his mid-30s and spent years living in the German city of Cologne after his family moved there from Russia, according to The Guardian. Nikitin claims to have had a framed photo of Nazi propaganda minister Joseph Goebbels in his bedroom, and at 22 years old became active in soccer hooliganism ― a scene that centers around violent brawls between different teams' supporters. In recent years he moved back to Russia, and is now based in Moscow.
Far-right observers first became aware of Nikitin around 2012, when his White Rex clothing label became a popular choice among some of Russia's violent soccer hooligans. In 2013, a well-known Russian neo-Nazi activist filmed himself assaulting a gay man while wearing a White Rex T-shirt.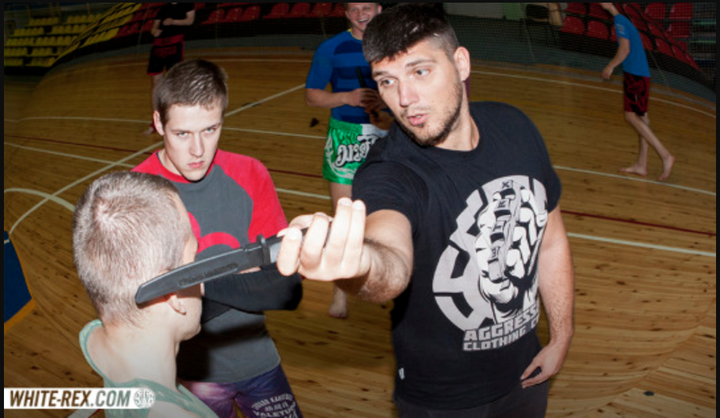 While Nikitin was promoting White Rex and organizing fighting tournaments, far-right researchers say he was also touring Europe to connect extremist hooligan groups and teach knife-fighting skills to far-right activists. The extreme right Swiss Nationalist Party posted a video to YouTube in March of 2016 showing a self-defense class it invited White Rex to hold, citing fear of asylum-seekers as the reason for the event.
Nikitin is "focused on reaching people through the internet, clothing and his seminars," said Pavel Klymenko, a researcher at the FARE Network, an organization that monitors hooliganism and discrimination in soccer. Klymenko described Nikitin as "a hate preacher" who has been open about "attacking migrants and other minorities after football matches in Moscow" as well as "his idea to exterminate minorities in Europe."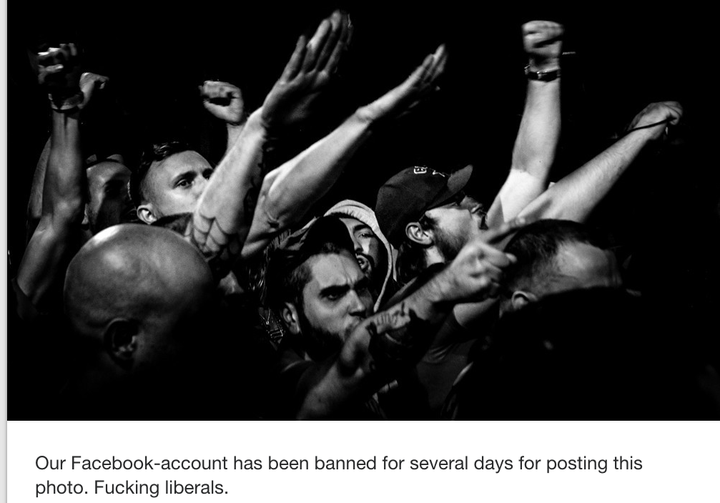 It's unclear how much money White Rex has made from selling its clothing on Facebook, but Klymenko said the label and the MMA tournaments are less about profit than they are vehicles to spread Nikitin's Nazi ideology.
ProPublica reported that earlier this year, Nikitin met with American white supremacists at an extremist fight club in Ukraine and also attended an ultranationalist festival in Germany held on Hitler's birthday. The leader of the U.S. white supremacist group at the event in Ukraine, Robert Rundo, even got a tattoo on his shin of the White Rex logo and has begun carrying White Rex apparel in his own online clothing store.
Facebook did not immediately respond for comment, and did not provide information on how much money White Rex has made from sales using the Facebook shop feature.
There are also signs that Facebook has briefly suspended the page for violations in the past. A White Rex Tumblr post from 2016 says the group's Facebook page was banned for several days after posting a photo showing a crowd of men at a White Rex MMA event giving a Nazi salute. White Rex's Facebook posts from 2015 also have the brand's logo censored in order to avoid being taken down.
Facebook is currently facing intense scrutiny over how it deals with the proliferation of radical or violent ideologies on its platform. On Wednesday, Facebook CEO Mark Zuckerberg caused a scandal when he brought up Holocaust denialism in an interview with Recode, saying he didn't think the company should take Holocaust denial posts down because "it's hard to impugn intent and to understand the intent."
Several anti-discrimination and Jewish rights organizations criticized Zuckerberg, saying there's no such thing as benign Holocaust denial. The CEO promptly issued apologetic statements in an attempt to clarify his opinion, but didn't specifically address how his platform would actually handle Holocaust denialism.
Facebook did not immediately provide comment on why the White Rex page was allowed to stay on its site despite previous violations for supporting hate. White Rex did not immediately return request for comment on its relationship with Facebook and support for Nazism.
Related
Popular in the Community