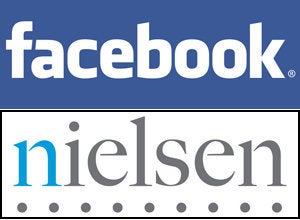 Facebook and Nielsen announced details regarding their new online advertising platform, 'Brand Lift', which will give advertisers better insight into the return on investment they can get through online ads on social media sites.
Facebook and Nielsen have partnered to release a product that will poll Facebook users on ads they see on the site, then package that data by Nielsen for marketers.
Bizreport says the platform will gauge Facebook users' sentiments about the ads posted on the site, while measuring "aided awareness, ad recall, message association, brand favorability, and purchase consideration."
Brand Lift will launch this week in the US among a small group of test partners, then in the next few months will likely be rolled out across all Facebook advertisers.
Facebook COO Sheryl Sandberg announced the new product at Ad Week on September 22, saying,
"The combination of our unique ability to quickly and effectively poll a sample of our more than 300 million users and Nielsen's expertise in data analysis will give marketers access to powerful data they can use to understand and improve current and future campaigns."

Brand Lift will "measure the impact of ... ads on Facebook (Facebook) through polls that Facebook will show its users who have seen the ads. Facebook will then compare the users' responses to those of other people who didn't see the ads and package the data for advertisers."

That sounds like a solid way to tangibly measure whether or not ads on the site perform, which could represent a big step forward in Facebook's ability to attract advertisers and get them to spend more on advertising to the social network's 300 million users. On caveat, however, is that you will have to be a Nielsen customer in order to use Brand Lift.
Brand Lift comes just in time for Facebook, which only recently resolved troubles with another marketing tool: the company shut down Beacon -- and settled a $9.5 million lawsuit -- over privacy concerns.
The social network says it will shut down Beacon, a program that tracks users' activities on other Web sites. When it launched in 2007, Beacon was immediately attacked by users as a privacy violation.
It tracked purchases Facebook users made on other sites and sent alerts about them to their Facebook friends. Facebook later let users turn Beacon off, and CEO Mark Zuckerberg publicly apologized for it.
Read more about Beacon here.
Popular in the Community