Facebook just made it a lot easier for your "friends" to dig up the most ridiculous stuff you've posted on the social network.
The good news is you can quickly pull up posts that were previously hard to find, like a funny status update, a shared article or restaurant recommendation from a friend. But it also means it's pretty easy to find embarrassing stuff, like pretty much everything you posted in college.
For example, you could use the feature to search your friend's Facebook history for keywords like "drunk" or "fuck." The search feature also includes synonyms, so there's often an array of results. When one HuffPost editor searched those words in conjunction with his own name, here's what happened:

This post he wrote on a friend's wall in 2008 came up.

Similarly, this status update from 2008 showed up.
When he searched a friend's name using the same keywords, the results were similar: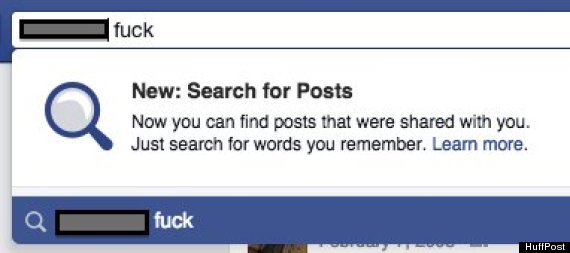 According to Facebook, the feature doesn't leave users' embarrassing posts exposed to the general public. Rousseau Kazi, Facebook's product manager for the new feature, said that for posts to show up in a search, the searcher would have to be your friend or someone you're connected with.
In other words, a complete stranger is not able to search your most embarrassing posts. But your friends and a few other second-degree connections are -- unless you activate the appropriate privacy settings.
"Let's say you made a public post back in 2008 that said 'Go Giants'," Kazi explained, using a made-up example and my name. "If someone random in the world types 'Harry Bradford Go Giants' they won't see that particular post unless one of their friends has liked or commented on it."
Another editor who I'm not friends with on Facebook verified Kazi's assertion by searching my name and the word "buns" in hopes of finding this status update: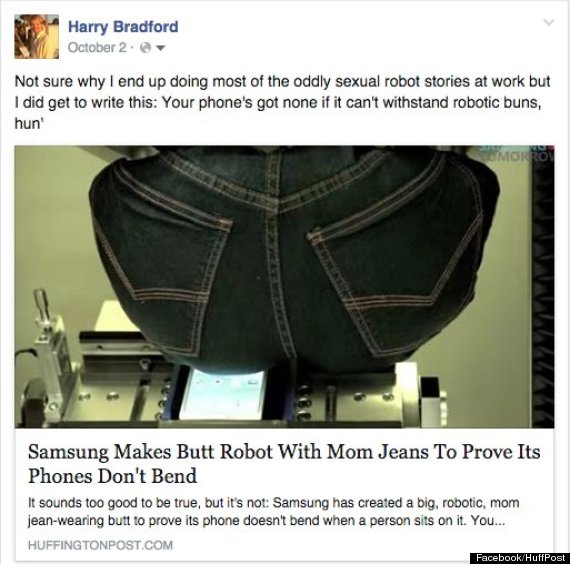 Since she's not directly connected with me on Facebook, here's what came up instead: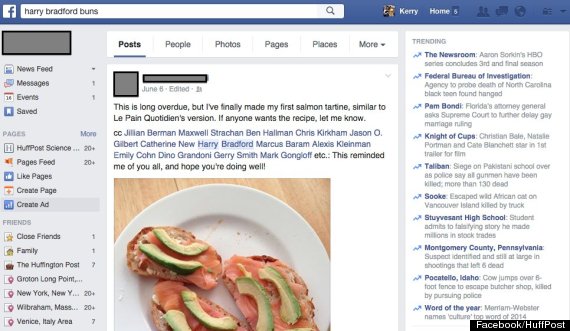 Kazi said the new feature makes getting rid of potentially embarrassing posts much easier, since you can search for keywords specifically, rather than having to scroll back through your Facebook's "Timeline." Once you find a post that you'd like to hide, you can easily change the settings of who can see it using Facebook's "Activity Log," or make changes to it directly, including deleting it all together.
If you're still concerned, Kazi recommends using Facebook's "Limit Past Posts" feature. This privacy setting makes it so only friends can see your posts, instead of friends of friends, or strangers. To access it, click on "Settings" in the upper-right drop-down menu, then click "Limit Past Posts."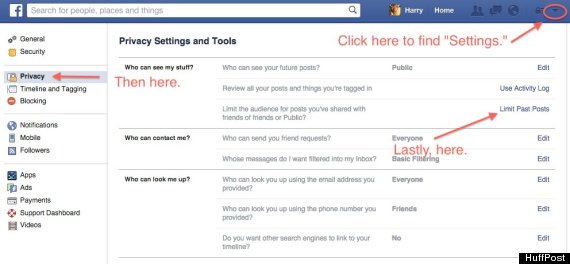 Kazi said the new search feature is "carefully planned" to be as private and controllable as possible for users. As it is rolled out across the site in the coming weeks, however, we'll see if that holds true. For now, you better make sure all your "friends" on Facebook aren't the type to look through your past for incriminating evidence.
Correction: A previous version of this article said Facebook began rolling out the new tool this week. It was last week. It also misidentified Rousseau Kazi as a project manager. He is a product manager.
REAL LIFE. REAL NEWS. REAL VOICES.
Help us tell more of the stories that matter from voices that too often remain unheard.