 Picture this: a Facebook News Feed that shows only updates from your friends. No brands chiming in to ask you to name their next product, or "like" their photo of garlic pills.
Facebook's original News Feed didn't stay friend-focused for long. In 2007, the social network introduced Pages, profiles designed specifically for businesses and public figures. The new feature opened the floodgates for brands, bloggers, corporations, singers and celebrities to push their messages alongside updates from people Facebook members knew personally. The social network promised its site would "always stay clutter-free and clean," but as Facebook acknowledged with its latest revamp of News Feed -- "a new version ... designed to reduce clutter" -- it hasn't quite kept that promise.
Over the last several years, Facebook has morphed from a sort of living room into a trade show of people trying to sell stuff. Our friends, of course, were always selling us the fantasy of lives filled with lush dinner parties and adoring boyfriends. But now American Express is selling us its love for small business owners, while Lay's sells us its new line of chips and a department store sells us the idea of dropping by its sale this weekend. Meanwhile, on top of it all, Facebook is selling our time and attention.
In pursuit of making the world a more open and connected place, Facebook has also made it a more cluttered one. For five years, News Feed has folded disparate types of information into a single place, so that a best friend's photos get little more consideration than a news site's latest links.
But on Thursday, Facebook made a move to bring back some of the purity of News Feed, and make good on its claim to help people "connect with friends." In a brief press conference at its Menlo Park campus, Facebook announced users will soon have the option to choose between topic- and people-specific News Feeds.
One feed will be an "All Friends" stream that shows everything posted by a user's friends -- and friends only -- in chronological order, free from interruption by sponsors or companies.
"This has consistently been one of the most requested user features and we're excited to now offer it," a Facebook spokeswoman said in an email to The Huffington Post.
There will also be distinct streams containing photos ("a feed with nothing but photos from your friends and the Pages you like"), music ("a feed with posts about the music you listen to") and a "Following" feed with updates from the Pages you follow.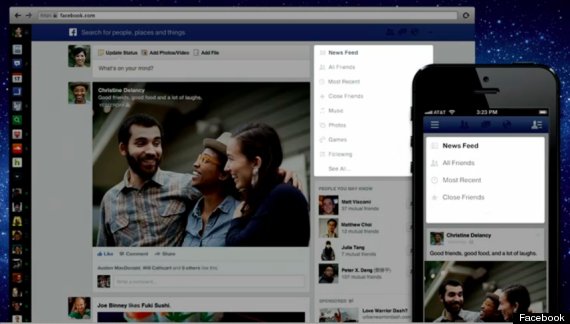 Whether people still have any interest in hearing from their Facebook friends is another matter altogether.
Making the rounds on Twitter is a snarky comment that sums up why some social media users are logging out of Facebook: "Facebook = people I know talking about things I don't care about. Twitter = people I don't know talking about things I care about."
To many users, Facebook has become an address book, a list of people they've met, rather than an online counterpart to their offline relationships.
Even as Facebook has introduced tools to make it easier for people to mute annoying acquaintances, the social network might also be to blame for encouraging the over-eager friending and prolific following that often makes it so noisy.
For example, in December, Facebook announced that it was experimenting with a service allowing people to pay to have their message bypass another user's spam folder and land in his or her inbox. The move called attention to the fact that users have a hard time getting in touch with someone via Facebook Messages if they're not already friends -- so why not friend-request that person you met briefly at a conference, or sat next to at a dinner party, just in case?
Social media researchers have long warned that Facebook users may be turned off by the site's "context collapse," with a person's disparate social circles melded into a single audience of "friends." The latest incarnation of News Feed suggests users, and Facebook, should be wary of a related phenomenon: the content collapse.
Popular in the Community