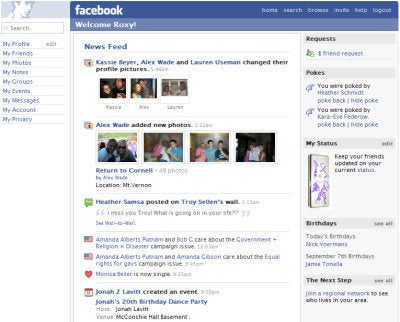 The countdown is on. Facebook is set to unveil its latest iterations to its famous News Feed in less than 24 hours.
It's interesting timing for the revamp in that New York Times tech columnist Nick Bilton just wrote about how paid advertising seems to be changing dynamics of the News Feed. It even led to a response from Facebook in which the social network wrote, "Our goal with News Feed is always to show each individual the most relevant blend of stories that maximizes engagement and interest."
Facebook's press event is scheduled to take place on Thursday, March 7 at 1 p.m. Eastern Time (10 a.m. Pacific Time). To be clear, it was announced before Bilton's post.
The News Feed is so important for Facebook because, in essence, it's Facebook's homepage. It's personalized and the more time users spend on it and engaging with content, the better for the social network.
Much has been written about Facebook's apparent obsession with change. The company is always trying to improve its products, increase engagement and grow. What company wouldn't want to do that? But it sometimes comes at the expense of users, causing frustration and leading to widespread criticisms. Even so, users often adapt over time.
Here's a recap on how Facebook has changed News Feed since it debuted in 2006.
September 2006
News Feed Launches
Facebook blog: The News Feed launches (screenshot below). It's introduced as a feed that "highlights what's happening in your social circles on Facebook," personalizing stories for users throughout the day.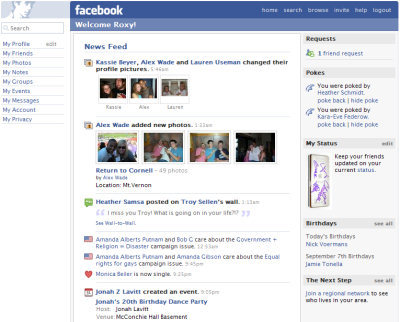 September 2006
Advanced Privacy Controls Launch
Mashable: In response to backlash on privacy implications of News Feed, Mark Zuckerberg posts, "We really messed this one up," and introduces advanced controls for setting what appears and what doesn't.
November 2007
Call For Feedback
Facebook blog: News Feed begins showing a thumbs up icon and an 'x' next to posts so users can provide feedback on what content they like seeing and what they don't like seeing. Facebook said it would use the feedback to make changes to how News Feed works.
July 2008
News Feed Preferences
InsideFacebook: Facebook adds the ability for users to say they want more or less of certain types of content in News feed. They can choose to receive "More about" or "Less about" certain friends.
March 2009
Real-Time Updates
Facebook blog: With an eye on the rise of Twitter, Facebook turns its homepage real-time, making News Feed update chronologically in a major home page redesign.
October 2009
Personalized For You
GigaOm: Facebook changes its default stream to an algorithm-based one, displaying popular or engaging content since you last logged on to the social network. Some protested this, wishing to see updates chronologically.
December 2010
Filtering Launches
Mashable: The "Most Recent" tab can now filter by status updates, photos, links, pages, or games.
February 2011
All Friends Or Closest Friends
InsideFacebook: Facebook adds the ability to see content from all of your friends and pages you like in News Feed or just your closest friends and pages you interact with most.
September 2011
Top Stories Introduced
Facebook blog: The News Feed started elevating stories it believes most matter to you. These are displayed at the top with the header "Top Story." Facebook said the change was designed to make the social network more like a "personalized newspaper."
Real-Time Ticker
TechCrunch: Facebook also debuts a real-time ticker alongside the News Feed of activity amongst your friends and pages you like.
January 2012
Ads Introduced
ZDNet: Facebook begins showing ads in News Feed under the term "Featured" or "Sponsored."
March 2013
News Feed Announcement
This leads to the News Feed announcement on March 7. What will be announced? TechCrunch believes it will be content-specific news feeds, like a music-only stream for instance, bigger photos and ads.
Popular in the Community