Facebook just introduced a new way to spend your entire day on its platform.
The social network is introducing a substantial update to Facebook Notes, the area of the site where users can write extended entries about whatever they want. Wired reported the redesign on Monday, though it hasn't rolled out to all users yet.
The new Notes will allow users to add cover photos, resize pictures and add links and hashtags within posts, a Facebook spokesperson told The Huffington Post in an email.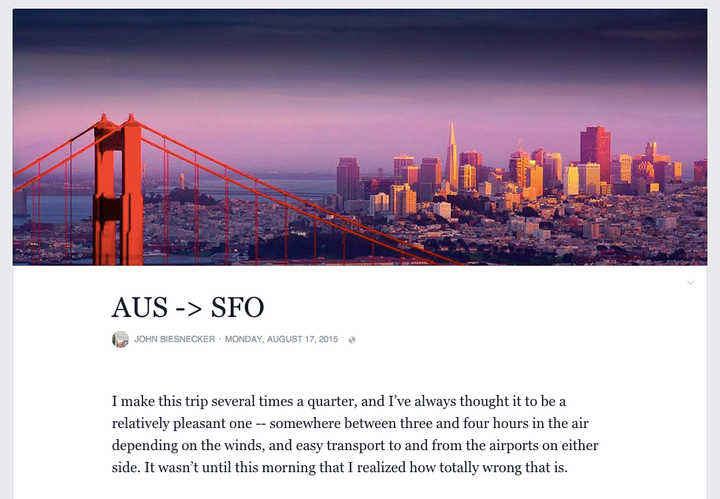 The new layout might remind you of the popular blogging site Medium, software developer Dave Winer pointed out Monday.
Facebook originally released its Notes extension in August 2006 so users could publish posts that exceeded the character limit on status updates, Wired writer Issie Lapowsky told HuffPost Live on Tuesday. Status updates were limited to 160 characters at the time, according to Mike Schroepfer, Facebook's chief technology officer.
The character limit of status updates was extended to 60,000 characters in July 2011.
If you're not sure where to find Notes, you're not alone. It's buried in a drop-down menu located along the top of your profile. Here's how to locate the feature:
Once you open the "More" drop-down menu, you'll see a list of features -- and if Notes isn't on it, scroll down to the bottom of the list and click on "Manage Sections." That'll open a longer list that includes Videos, Sports, Places, Likes, TV Shows and others. When you find Notes, make sure it's enabled by clicking the checkbox.
The Notes redesign may be part of a larger effort by Facebook to maximize the amount of time users spend on its site. In May, the company linked up with nine news outlets to publish content directly on the platform's mobile news feeds. Earlier in August, Facebook also introduced "Mentions," a feature that allows celebrities to broadcast live video footage to their followers.