Could Facebook be a one-stop shop for every aspect of your personal life? The social media company sure hopes so.
Starting Monday, users of the Facebook mobile app will begin to notice more detailed notifications -- those little updates you see when you tap the "globe" icon in the iOS or Android app. You'll be able to set the app to show you updates on local news, weather, nearby movies, upcoming TV shows or sports games you might be interested in and major moments in your friends' lives.
Think of it as a supplement to your News Feed. 
For example, Facebook might imagine that you're the one person in the world interested in seeing "The Last Witch Hunter" and let you know that it's playing in three nearby theaters: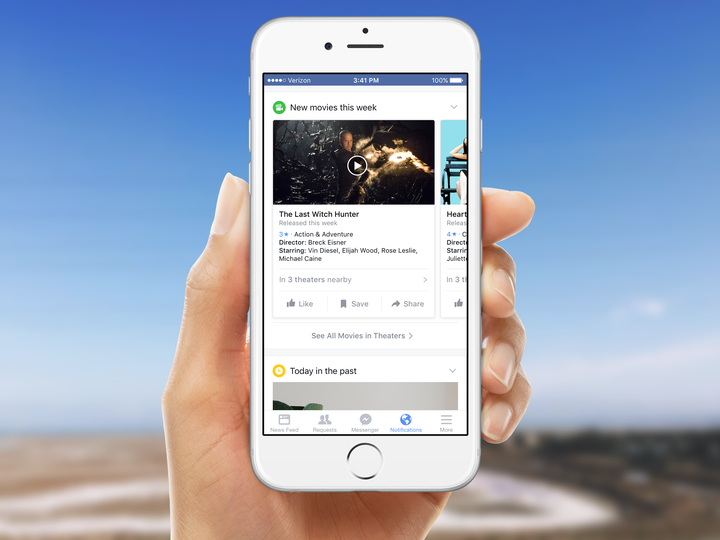 Or, it might let you know that there's a place to eat nachos nearby -- a feature that honestly could be a separate app: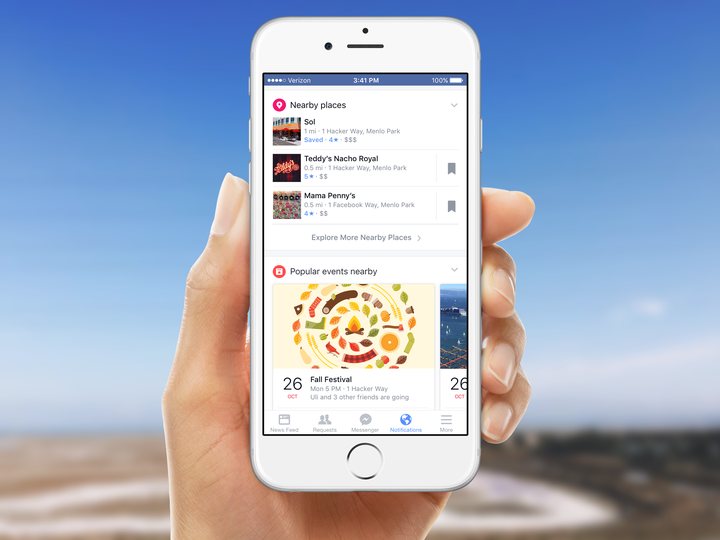 "Every day, people use their notifications to keep up-to-date with their friends and family," Facebook Product Manager Keith Peiris wrote in a blog post. "We've heard feedback that people wanted to add important information that they can easily see, all in one place."
Certain updates -- like weather or local news -- will rely on you giving Facebook access to your location data. 
Facebook's notifications overhaul sounds a little bit like "Google Now cards," which display relevant information to Google app users based on their searches, emails, apps and so on. The idea is essentially for your services to get better at anticipating what you want to see at any given moment.
Facebook now wants to tell you about new things it thinks you'll be interested in, not necessarily things you already know about or have liked in the past. Facebook's News Feed -- which is built to show you updates about your friends, your "liked" pages and so on -- can feel like a bit of a swamp sometimes, and it's not always clear why certain things bubble up versus others. The new notifications sound like they're designed to be individually molded by Facebook's 1.31 billion mobile users.  So perhaps you'll find yourself scrolling through your notifications stream more than your News Feed.
Or maybe you'll just spend a lot of time obsessively scrolling through both.
The update is "rolling out" to iOS and Android users, so keep looking if it's not available on your device yet.
REAL LIFE. REAL NEWS. REAL VOICES.
Help us tell more of the stories that matter from voices that too often remain unheard.