Yes: more notifications. But Facebook bills the app as "notifications that matter," per the official App Store description. The idea is for users to opt into certain topics they'd like to hear about -- or organizations they'd like to hear from -- and receive information whenever there's a relevant update.
The Huffington Post is one of the news organizations partnering with Facebook for the launch of the app. There are also entertainment brands like Comedy Central, shopping-oriented sites like Racked and more service-focused outlets like Headspace, a meditation app.
When you log into Notify, you'll be able to choose which sources you're interested in and then choose which "stations" from that outlet you want notifications about. If you like HuffPost Politics, you might turn on "The Race for 2016," for example.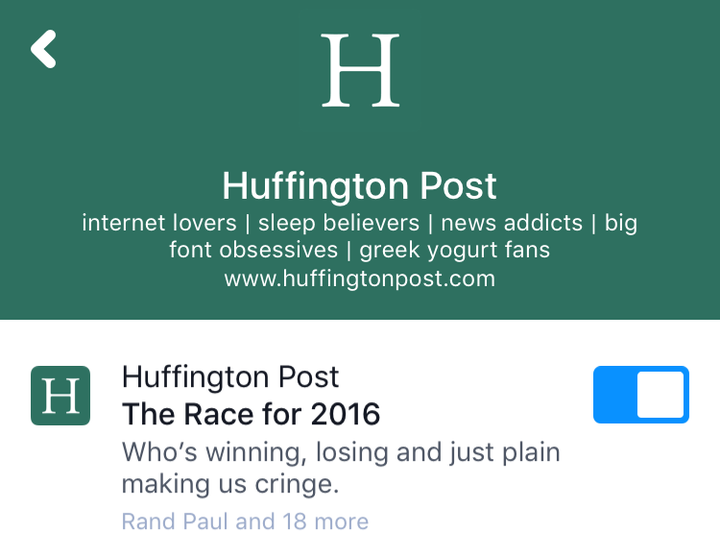 When you interact with a notification, you'll be taken to the outlet's website to view the content. If Notify pings you with a headline from HuffPost, for example, you'll actually read that content on our website.
That's a contrast from Facebook's recent "Instant Articles" program, which takes content from media partners and hosts it directly on the social media platform.
What the two services have in common, though, is a desire for individuals to experience the Internet through Facebook. With Instant Articles, Facebook becomes the platform that you're reading news on; with Notify, it becomes the portal through which you experience everything else.
Notify may not seem all that relevant to you now, but think about how Facebook has shepherded people into its apps before. Perhaps you used to write and respond to Facebook messages via Facebook.com on a third-party web browser like Google Chrome. Now, there's a decent chance you're one of 600 million people who do that via Facebook's Messenger app instead.
Of course, no one knows if Notify will take off. Facebook roped people into Messenger because there was no other official way to exchange Facebook messages on smartphones -- there are already many ways to receive news notifications on your device.
If Notify becomes popular enough, though, publishers might not see the value in maintaining their own apps. Any major outlet you can think of has its own app that it sends push notifications from -- but why bother pouring resources into keeping those apps updated if Facebook is offering a huge audience on its own notifications app? You see where this is going.
Writing for the Washington Post in October, Hayley Tsukayama put it succinctly: "It's all part of Facebook's really open and not-at-all secret plan to take over the world -- by supplanting the Web with its own apps as much as possible."