This post originally appeared on artnet News. by Coline Milliard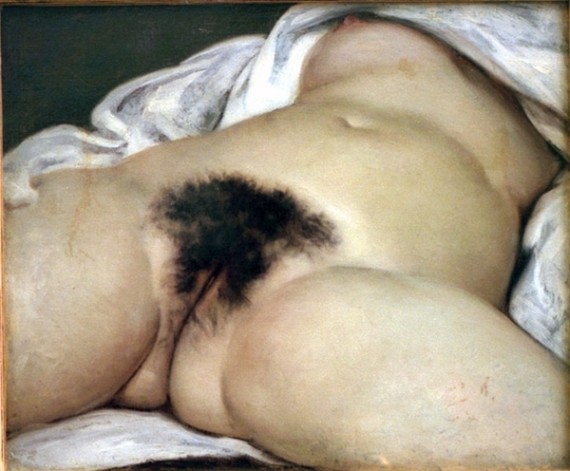 Social media giant Facebook has been taken to court by a French user whose account was closed down after he posted an image of Courbet's racy painting L'Origine du Monde (1866). According to Le Figaro, the world-famous oil-on-canvas was part of a promo for an art history video about the artwork, broadcasted by the highbrow TV channel Arte.
The plaintiff, a Parisian schoolteacher described by his lawyer Stéphane Cottineau as "a decent man, cultivated, and attached to the transmission of knowledge," is seeking the reactivation of his Facebook account as well as €20,000 in damages.
The American company's get-out clause is that, by opening an account, every Facebook user agrees any dispute will be taken to court in California, home to the company's headquarters. On Thursday, Facebook asked Paris's civil court to declare that it lacks jurisdiction over the case.
Facebook's lawyer Caroline Lyannaz has argued that that French consumer laws don't apply to Facebook as the service is free of charge and use of the social network is voluntary.
But the plaintiff's lawyer Cottineau described Facebook's clause as "abusive." "Following your logic," he said, "none of France's 22 million Facebook users will ever be able to go to a French court should a disagreement occur."
The case has been unraveling since 2011. According to Ouest France, Pau's civil court ruled in 2012 that it had jurisdiction over the matter. Paris's civil court is expected to give its decision on March 5, 2015.
Like several social media sites, Facebook has a strict no-nudity policy, one which is currently hotly contested by the likes of Lena Dunham and Miley Cyrus with the hashtag #Freethenipple.
Originally commissioned by an Ottoman diplomat, Khalil Bey, and once owned by psychoanalyst Jacques Lacan, Courbet's painting appears as controversial as it was a century and a half ago. In February of last year, a group of philatelists was denied the request to have it printed on postal stamps (see Non! French Mail Turns Down Request to Print L'Origine Du Monde Stamps).
--------------------------------------------------------------------------------------------------- artnet News is the world's first global, 24-hour art newswire, dedicated to informing, engaging, and connecting the most avid members of the art community with daily news and expert commentary.
Calling all HuffPost superfans!
Sign up for membership to become a founding member and help shape HuffPost's next chapter
BEFORE YOU GO
PHOTO GALLERY
Art History's Most Erotic Artworks