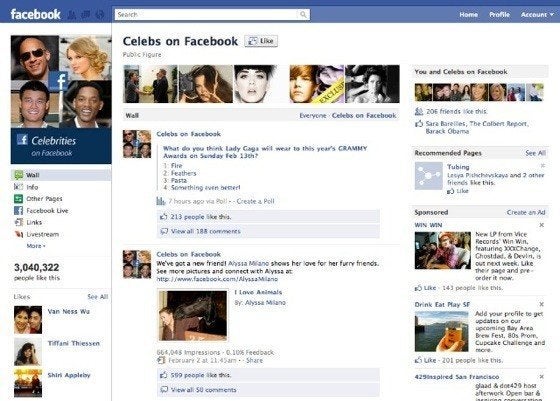 Facebook Pages are about to get a major redesign that will change their look and functionality for both administrators and fans.
The new page layout will resemble Facebook's most recent profile redesign. Once a page administrator upgrades to the new format, a navigation menu will appear to the left of the page's wall, and the row of tabs will disappear from the top of the page. Below the page's main title, administrators can update the page's information and feature recent photos.
Admins can also browse Facebook as a page and interact with other pages. For example, an admin using the HuffPost Tech page could visit the page for HuffPost Health and leave a comment as HuffPost Tech. If HuffPost Tech "Likes" another page, that page's activity will show up in HuffPost Tech's dedicated News Feed.
Page administrators can choose to receive email notifications of activities on the page. Admins also have the option of organizing the content in their page's wall. Inside Facebook explains how this works:
Page admins can select between an "Everyone" and a Page posts only default tab for the wall. Instead of showing a reverse chronological stream of posts, the Everyone tab shows users posts Facebook thinks will be the most relevant. Recent posts by friends, posts by other users in same language or country, and posts that have received a lot of Likes and comments will bubble to the top.
When it comes to interacting with individual users, there are still some restrictions. "Pages [...] cannot post on a user's wall or comment on his or her status. The lone exception is for a user who has opted for the 'everybody' privacy setting; Pages can comment on status updates for those individuals," writes Mashable.
TechCrunch notes that the upgrade kicks in on March 10. Starting today, page administrators can take a Page Tour and get a feel for the coming changes. There is also a manual that details the upgrade.
To see what the new pages will look like, check out the screenshot (below).
LOOK: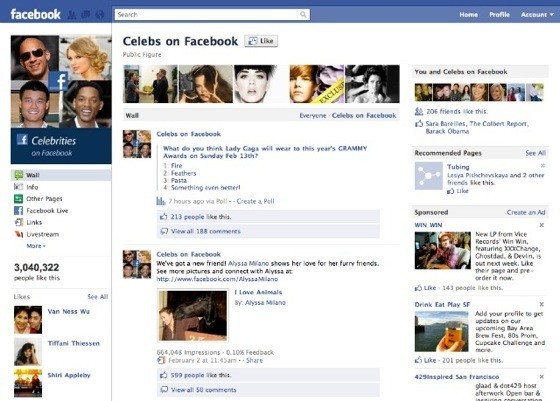 Popular in the Community