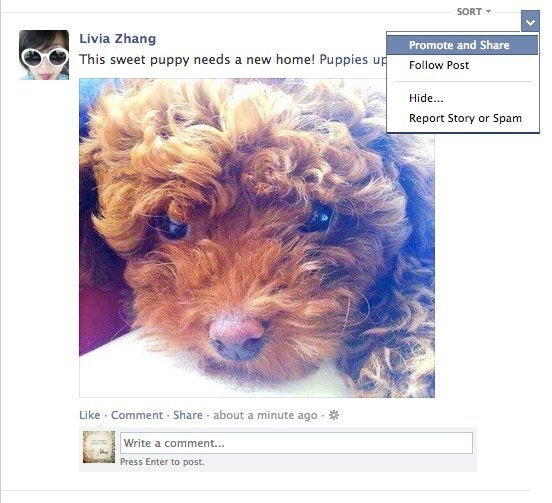 "Liking" a Facebook post just doesn't cut it any more: If you really like a friend's post, you should be willing to shell out some cash to ensure it gets seen.
The expansion of Facebook's Promoted Posts marks another attempt by the social network to make money off its users' relationships and cut through the clutter in the Facebook news feed. Though Facebook maintains it's "free and always will be," in the year since Facebook announced its plans to go public, the social network has systematically introduced a slew of tools aimed at getting its members to buy things directly from the social network.
The social network is increasingly keen to turn its members into customers, and has been working to collect its users' credit card information alongside Instagram photos and wedding albums. So far, however, revenue from features like Facebook Gifts has been negligible, according to Facebook's most recent earnings report.
Sponsoring a friend's post guarantees it will appear in a higher percentage of his or her friends' News Feeds, though Facebook notes the tool "respects the privacy of the original poster -- i.e. it will promote to everyone who originally saw it."
However, users needn't receive their friend's permission before pushing his or her post to more people, and individuals will be notified only after the promotion has been purchased. While it's nice to think that only our accomplishments will get our friends' financial support, that might be a bit naive.
The Promoted Posts feature is also available only to people with fewer than 5,000 total friends and subscribers. Here's what it looks like: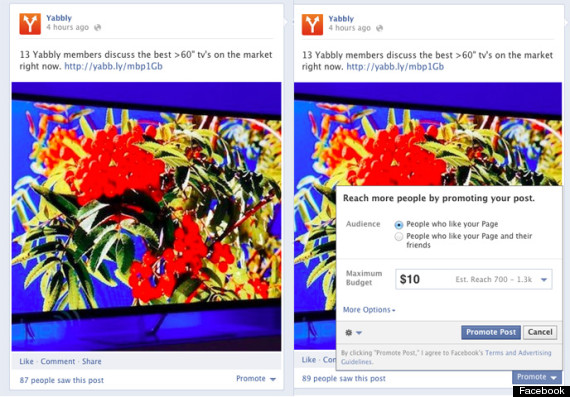 In a press release, Facebook suggested that people had already used the feature to publicize charity fundraising efforts, major personal announcements, items for sale or accomplishments.
"If your friend is running a marathon for charity and has posted that information publicly, you can help that friend by promoting their post to all of your friends," wrote Facebook in the release. "Or if your friend is renting their apartment out and she tells her friends on Facebook, you can share the post with the people you and your friend have in common so that it shows up higher in news feed and more people notice it." Or as HuffPostTech reader Henggao Cai noted on Facebook, "If your friend needs a kidney you can promote his status about a kidney donor to speed up the process of finding a donor."
But Facebook already has a completely free way to ensure more people see a post: users can simply repost their friends' links and share the information to their personal friend group.
Say a friend's band has a gig on Saturday. Is it really preferable to pay, say, $7 to be sure a higher percentage of your mutual friends see information about the concert? Or will you reach more people just by sharing the link to your own friend group, which may have little overlap?
It's also worth considering the social implications of each option. Promoting a friend's post shows someone is willing to put her money where her mouth is. But it remains to be seen whether Promoted Posts could in turn diminish the value of congratulating a friend the classic way, without paying for eyeballs. And which is more thoughtful: spending a few dollars to push out a post, or taking the time to publicly congratulate a friend in your own words?
Calling all HuffPost superfans!
Sign up for membership to become a founding member and help shape HuffPost's next chapter