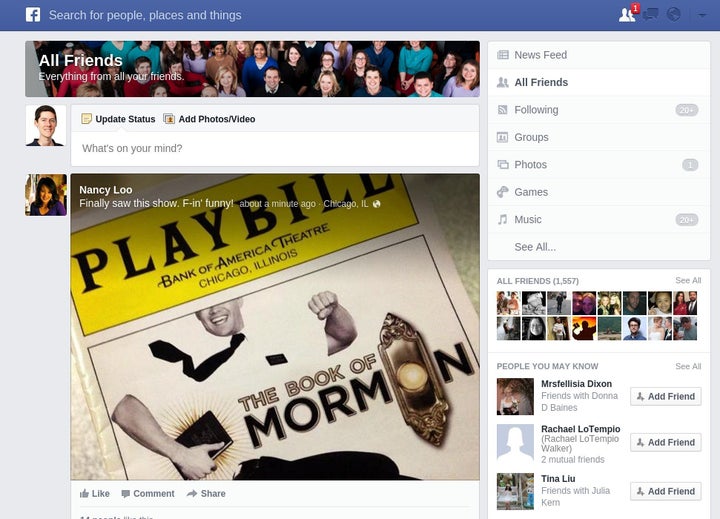 I like it. Facebook just got a lot more addicting. And more useful.
The social network's CEO and co-founder Mark Zuckerberg trumpeted the redesign as giving every user a "personalized newspaper." No two were alike; it's all about you and your interests. You get to keep up with topics you care about and customize the experience as you wish.
The new design emphasizes simplicity. Facebook basically took all the clutter that used to populate its homepage and threw it away. And, oh, is it refreshing. The social network got back to its roots: you and your friends are front and center of the experience.
You don't have to look too hard to see how detailed Facebook got on personalization. As soon as you switch to the new design, you'll see a list of streams or sections to browse in the top right. Already, you can see by the streams it pre-populates, Facebook knows you pretty well. And every section has a photo at the top with you in it or a memory of some kind.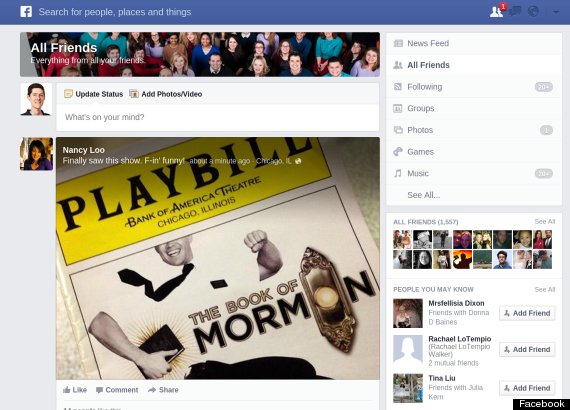 The "All Friends" feed is one of the most addicting parts of the new Facebook homepage. It's real-time, and it's easily accessible at all times, just one click away in the top right of the screen. It delivers your friends, and only your friends, no sponsored posts, no brands, nothing else. It's refreshing to see friends only and easy to obsess over this stream, visiting often to see which of your friends posted 30 seconds ago and what it was they thought important enough to share.
The second most addicting stream -- or section of your personalized newspaper -- may be the "Photos" stream. The new News Feed is bold on visuals; big and vibrant photos take up the bulk of your screen. Captions embed over images at the top. Again, these are close to real-time. Instagram photos display nicely, and you can see Facebook putting its acquisition to good use there. You can hardly tell they were uploaded to Instagram at all; they look native in Facebook. Albums pop as you browse the stream and seeing multiple photos in a row give you pause.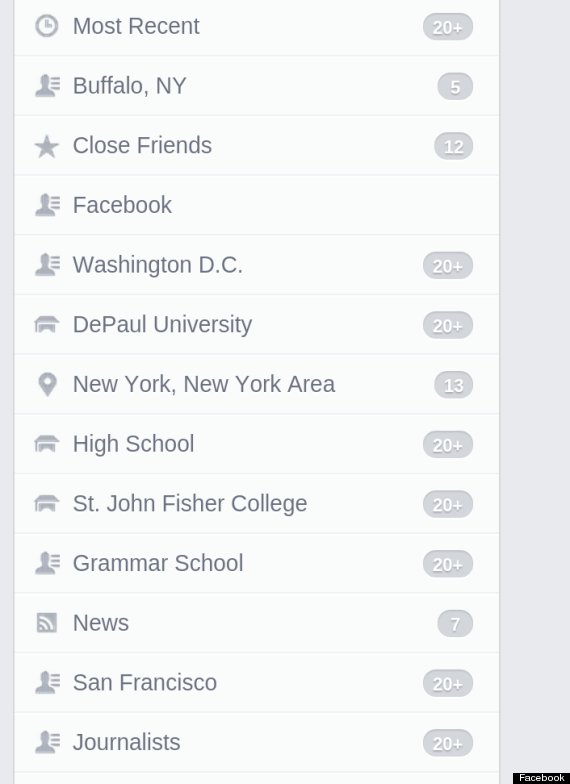 Then there are all your sections. It cannot be understated how awesome the real-time nature of new Facebook is and that shines with the sections. I have topical feeds, interest lists, of "News," "Hockey," "Journalists, "Tech," and more. I have geo-located feeds too that Facebook auto-created for me like friends in Buffalo (my hometown), friends in New York City (where I live). I can browse all of these sections and discover content posted just moments ago, quickly and easily from the sectional navigation of my "personalized newspaper" at the top right. Tiny gray notification bubbles let me know how many new posts have gone up in a section since I last visited it.
It's an enjoyable experience to see the latest going on, to shift from section to section, stream to stream. If Twitter is an uncategorized, constantly flowing stream of people you follow, Facebook makes sense of its river of content and people you're connected to for you, and it presents it visually in a way Twitter cannot. Or at least hasn't yet.
In that sense, I found myself wanting to check Facebook more. And I did check it more. Facebook's Vadim Lavrusik wasn't kidding when he wrote this; there are more opportunities for content discovery on the new Facebook. The more I used it, the more I found interesting content, content I wanted to engage with (and did), and the better it got. Literally. The sections move up and down based on how often I visited them. It makes those must-checks for me every day that much easier to get to.
The new News Feed puts visuals front and center, and at least so far, I haven't encountered as many ads, especially in the individual sections which are just filled with great content. It elevates interest lists that got buried in the old design and makes them prominent parts of your personalized Facebook. I'm sure you'll be amazed, like I was, at how much more content you're exposed to. And who knew I liked or subscribed to nearly 500 pages and personalities? They're all in a "Following" stream which is again real-time and a must visit every time I log into Facebook.
The new Facebook is all about organizing its huge amount of posts in a way that works for you. So that you learn interesting new things, find what you're looking for and find some things you didn't even know you wanted. I'm very impressed how well it works as a personalized newspaper, as advertised. And I don't see any other company who can offer an experience like it. Well done, Facebook.
Calling all HuffPost superfans!
Sign up for membership to become a founding member and help shape HuffPost's next chapter
BEFORE YOU GO
PHOTO GALLERY
7 Ways You Might Be Oversharing On Facebook