What can we expect? Below, we've collected all the rumors and speculation in one place, for your convenience. Get ready, friends: Facebook's about to poke the smartphone business with something special.
The core of Facebook's announcement, according to TechCrunch and 9to5Google, will revolve around a new "skin" or software presence on Android, centered on Facebook experiences. Essentially, Facebook has designed a new look, called "Facebook Home," on top of the existing Android operating system to give the user easy access to Facebook, Facebook Messenger, the Facebook camera and other Facebook-centric functions, as well as the apps like the telephone, web browser, text messaging and Google Play app store you would expect from an Android phone.
In other words, the Facebook phone isn't just going to be a smartphone that can visit Facebook (as you might immediately assume when you hear "Facebook phone"). It will be a phone that is built to accentuate what Facebook can do. As Josh Constine at TechCrunch writes, it's similar to what Amazon did with the operating system for the Kindle Fire. That "forked" version of Android puts your Amazon content and its store up front. The Facebook phone would do that with Facebook.
Imagine, Constine writes, if your phone's homescreen featured updates from your news feed. You wouldn't need to open your Facebook app! Super convenient for Facebook users, and obviously desirable for Facebook itself.
9to5Google has an alleged screenshot of what that -- and the user experience on "Facebook Home" -- might look like: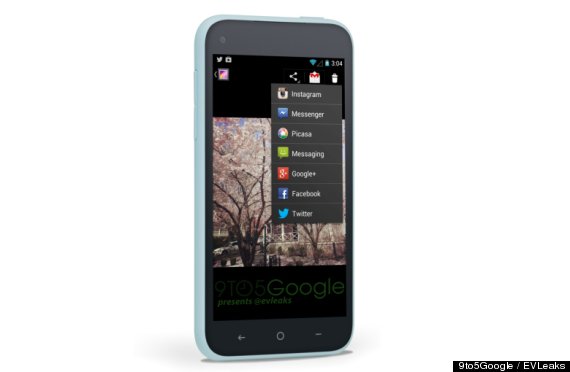 On a Facebook phone, quite simply, your newsfeed and Instagram updates are given the same precedence as a missed phone call or new text. 9to5Google has more screenshots here, showing what is a quite beautiful design for a Facebook-first mobile device. As you can see, Facebook updates live in tandem with updates from the phone's other core features.
Which reminds us: is this going to be a smartphone, or just something Android users can download on top of their operating systems? The answer: Maybe both!
2. A Facebook Home Phone (Facebook, Phone Home?)
So, you've seen the screenshots, but what surrounds the screen? What are the specs on this monster?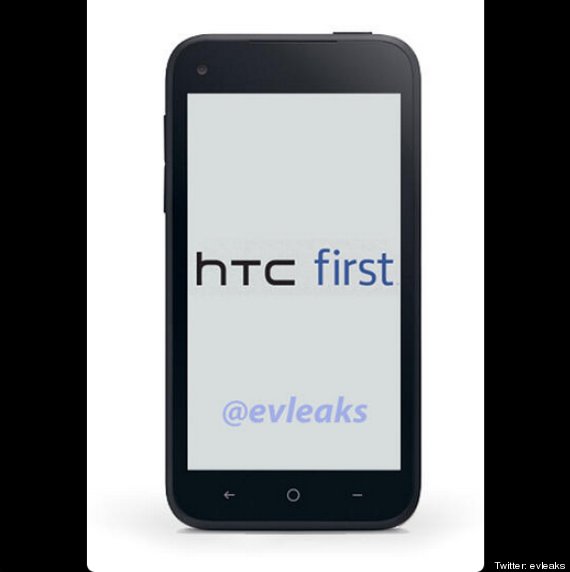 Again, this is a collaboration long in the making, with early reports of a Facebook-HTC collabo springing up in 2011. In November of that year, for example, AllThingsD's Ina Fried and Liz Gannes reported that "[a]fter years of considering how to best get into the phone business, Facebook has tapped Taiwanese cellphone maker HTC to build a smartphone that has the social network integrated at the core of its being."
That smartphone with a social network at its core could be unveiled on Thursday. There are some other rumored specs flying around: Unwired View claims what it calls the "HTC Myst" will have a 4.3-inch, 720p screen, 1GB RAM, a 5MP rear camera and Android Jelly Bean 4.1.2 (full spec list here).
It's also pretty widely rumored, and prominently on the website Android Police, that Facebook will make its software available to download for any Android users who want it, and that its presentation will be a kind of pitch to other smartphone manufacturers, too.
The main draw of a Facebook phone, of course, will be its Facebook-ified central functions -- not the specs or the manufacturer name on the back -- and whether having Facebook right up front makes sense for smartphone owners. Mark Zuckerberg is going to have to eat his Wheaties on Thursday morning and really sell a skeptical global audience on the concept, which, judging from comments sections around the Internet, does not have broad support. (Popular Science puts what seems to be the national consensus bluntly: "Nobody Wants A Facebook Phone.")
So the one thing that you can definitely expect at Facebook's Phone event? Persuasion.
3. A Lot Of Explaining Why You'd Want A Facebook Phone
This isn't a knock at all on Facebook, but the question clouding its event is this: Why the heck would anyone want a Facebook phone in the first place?
Look for Facebook execs to be proactive, explaining why a phone with Facebook baked deeply into the guts of its operating system is superior to an iPhone or Android device with a Facebook app and social sharing. That's the central issue: convincing a large swath of consumers that there is something elementally worthwhile about committing their homescreens (not to mention $200 and two years of a wireless contract) to Facebook and its various services.
If Facebook can make a compelling case, its long-gestating smartphone and smartphone operating system will prove a worthy pursuit; if not, then it could go down as just one more thing Facebook users request a dislike button for.