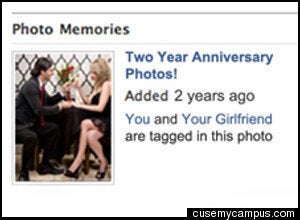 Exes can be a thorny issue for Facebook.
At the social network's most recent press conference, Facebook CEO Mark Zuckerberg acknowledged the challenges of using an algorithm to create customized "clusters" of close friend on Facebook: "You never want to be presented with a list as a user of exactly the people who you focused on the most, and to see a girl you're flirting with at the top, and an ex-boyfriend next to that, especially when other people might be over your shoulder when you're using Facebook," he said, according to Fast Company.
Facebook's Photo Memories feature has also struggled from the ex problem.
The Photo Memories sidebar offers up photographs from friends' photo albums that were uploaded between six and twelve months before. Inside Facebook explains, "The feature displays a photograph, its caption (or the album title if there is no caption), when it was added, the name of a friend tagged in the photo, and how many additional friends are tagged in the photo."
Although the tool ostensibly hopes to help users reconnect with old friends, see the history they're building on Facebook, and check out photos they may have missed, many on Facebook have complained that the feature upset them by displaying pictures of their exes.
Our initial post about Photo Memories received dozens of heartfelt pleas for more control over the feature, or the ability to turn it off. For example, a commenter named Julie said, "It keeps showing pics of my ex and their new significant other and it makes me sick! I'm still in love and I'm trying to move on but it's ridiculously hard when every time I log on, their face pops up on the right hand of screen." An old Facebook group deploring the feature reached over 500 members.
Facebook took note and Facebook Photos Project Manager Sam Odio told users in a comment, "I'd like to let you know that we're listening to your feedback. The photo memories product no longer shows tagged photos of your friends if you were previously in a relationship with them."
Facebook's response is commendable, although there's still the issue that you (and your now ex) may not have listed yourselves as "in a relationship" on Facebook. Mashable adds, "Or what if it's showing you your current squeeze (and it will -- only about 1 in 10 photos the box shows me now are of anyone other than my girlfriend) with one of his or her exes?"
What do you think of the feature? Tell us below.
Related
Popular in the Community