 If you haven't reviewed your Facebook privacy settings lately, now might be the time to double-check them.
"Facebook really is changing the way the world socially communicates and has become a successful service in part by leveraging copious amounts of personal data that can be spread far wider than its users might realize," said Consumer Reports technology editor Jeff Fox in a press release. "Our investigation revealed some fascinating, and some disquieting trends – but ones always worth knowing for consumers who wish to keep their personal data under better control."
To estimate national totals, Consumer Reports surveyed 2,002 online households across the U.S. (1,340 of which are active on Facebook) for its annual State of the Net report. Among other startling stats and facts, the nonprofit consumer-focused organization also revealed that Facebook gets a notice every time you visit a site with a "Like" button -- even if you never click the button, aren't logged in, or aren't a Facebook user.
While it's important that Facebook users keep their knowledge of the social network's privacy policies up-to-date, it would appear that many aren't combing through the policies or aren't taking advantage of available privacy settings. And, as the Next Web points out, a recent survey conducted by global branding firm Siegel+Gale found that Google and Facebook privacy policies can be more confusing to users than credit card agreements and government notices.
Among them is a suggestion to block apps or at least limit the info apps can see, as a friend running an app could grant it access to your information without you even knowing it; according to Consumer Reports, only 37 percent of users have customized their Facebook privacy settings to control how much information apps can see.
However, more and more Facebook users chose to provide Facebook with false information about themselves. According to The New York Times this practice "technically violates Facebook's terms of service," but that didn't stop 25 percent of users from doing it last year. Two years ago, only 15 percent of users admitted to falsifying information on their profiles
We believe more than 900 million consumers have voluntarily decided to share and connect on Facebook because we provide them options and tools that place them in control of their information and experience. As part of our effort to empower and educate consumers, we always welcome constructive conversations about online privacy and safety.
You can read more about Consumer Reports' findings on its website. Have you put Facebook's privacy settings to use? What are your best privacy control tips? Share them with us in the comments!
Related
Before You Go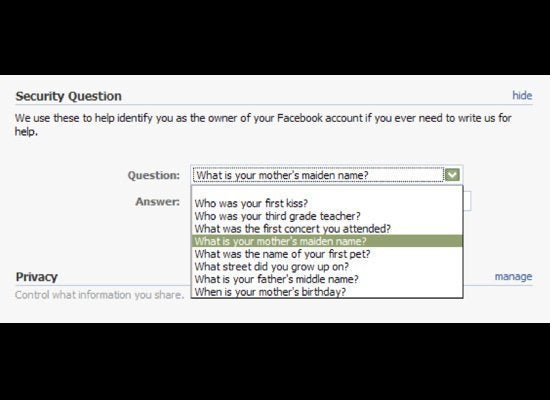 What Not To Post On Facebook
Popular in the Community