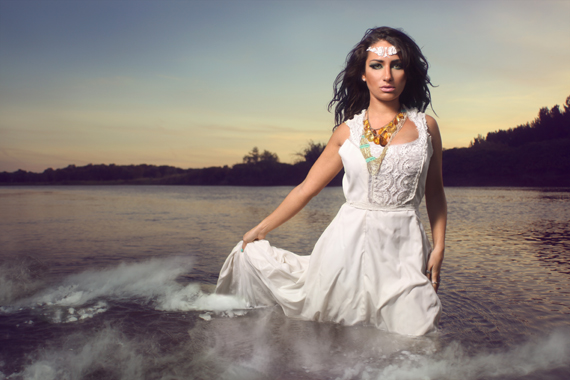 (Photo by Logan Lefler)
ALEJANDRA BORNOWSKI'S Facebook profile picture took weeks to make.
In the photo, a radiant Bornowski appears knee-deep in a lake with billowing clouds of dry ice encircling her thighs. The picture has been retouched, and not a hair, freckle or eyelash are out of place.
"When people who don't know me see my profile picture, I want them to be intrigued," says Bornowski, 24, a former business manager at a Portland, Oregon, matchmaking service who did not pay for the photoshoot done by a photographer hoping to build up his portfolio. "There's no way anyone else on Facebook has that picture. It's a conversation starter."
Though Bornowski, like most social media users, has uploaded her fair share of "selfies"—blurry self-portraits snapped with an outstretched arm and a cellphone camera—her most recent Facebook profile photos have been the handiwork of professional photographers.
This penchant for profile photos shot by pros puts her in good company: Some social media users are forgoing the vacation photos and party snapshots that have traditionally served as profile fodder in favor of carefully crafted headshots from expert photographers, who say they've seen a steady uptick in business from clients wanting photos specifically for social media.
"Initially people were just putting up Instagram photos and stuff like that, but increasingly people want to put their best foot forward, and I'm getting more and more requests," says Manhattan-based photographer Nick Coleman, who runs Coleman Photographix. "The first person to contact me expressly to do shoots for social media profiles was two years ago, and it's steadily picked up since then."
Recognizing the rising demand for expert profile photos, some photographers are marketing themselves specifically to social media users seeking something better than a selfie. Jacklyn Capt of Palestine, Texas, says people "jump" to take advantage of the "free Facebook profile headshot" sessions she offers regularly as a way of drumming up new business. Phoenix, Arizona, photographer Leslie Styler advertises sittings for Facebook profile pictures—$45 for five to 10 photos—alongside her traditional headshots. And Coleman maintains an active presence on Twitter and Facebook that he says helps him attract new commissions.
Professional headshots have long been a fixture on dating sites, where an unattractive photo can tank a person's chances of finding love. Yet their growing popularity on mainstream sites such as Facebook and Twitter underscores the extent to which avatar-to-avatar communication is supplementing face-to-face interactions as the way people meet, socialize and get hired.
"People used to hire you to take pictures for their business cards. Now, LinkedIn, Facebook and websites are their business cards," says Jason Tench, chief photographer with Blue Mountain Photo Works in Greenville, South Carolina. Working with a professional photographer—who helps each client pick a specific pose, background and "look" that reflect her personality—allows an individual to better craft her profile picture to convey a certain identity, photographers say.
In many cases, clients are looking for one money shot to use across a number of platforms, and not exclusively on a social network. Barbara Barna Abel, a media coach, hired Coleman to take a series of headshots she's used as her profile photos on Twitter, LinkedIn, Google+, About.me, as well as for other business purposes. She worked with him to create an image of herself as a "creative professional" who is "friendly and approachable." Abel chose a photo that's realistic, but thanks to some slight photo-editing, lighting genius and a professional hair-and-makeup job, "looks like me on a really, really good day," she says.
Since social networking profiles now serve as a kind of online resume, Abel advises her clients to have professional headshots taken for their online profiles—whether it's a personal website or a Facebook page—to ensure even a Twitter account is "on message."
"We live in a visual world, and the first thing people see is not only what you're posting, but your photo," Abel explains. "You want to have the best picture you can, and the strongest, most solid effective message possible."
For other users who commission professional profile pictures, the message they're after is not so much "hire me" as "I'm hot," say photographers. While even amateurs can now afford top-quality cameras, professionals still offer the nice lighting, slimming angles and careful retouching that separates a so-so picture from a stunner.
"People who want pictures for Facebook want others to think, 'I look like this when I roll out of bed, with my skin flawless and my hair impeccable,'" says Capt.
But not too impeccable: some clients, particularly teens and twenty-somethings, ask photographers for images that don't obviously appear to be professional. In many cases, photographers try to give the feel of an amateur snapshot—but better. In the quest for more candids, photographers often ditch the solid backdrop typical of corporate headshots for the outdoors: photographer Amy Parrish frequently photographs her clients in the Ohio countryside, or uses the 19th-century, timber-frame barn that houses her studio as a backdrop.
According to Capt, her adult clients will credit her handiwork, but teens who use her photos on Facebook will crop out their logo and avoid saying who took their picture.
"People don't want to look desperate, like they've had photos professionally done," Coleman agrees. "Even though they're paying for the photo, they want the picture to suggest, 'Maybe I just have a friend who's great at photography.'"
Popular in the Community