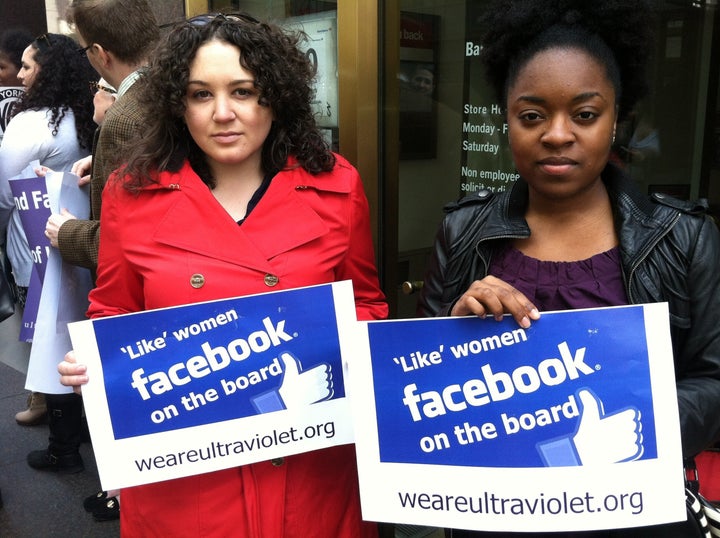 NEW YORK -- Protesters swarmed the entrance to Facebook's Madison Avenue offices in New York City on Wednesday to deliver a petition with 53,000 signatures asking the world's largest social network to add women to its all-male board ahead of its public offering.
"Shame on Facebook," chanted the more than two dozen men and women brandishing signs declaring "'Like' Women on the Board" and "Facebook: Women Are Good for Business." One protester, Anne Cardinez, called on Facebook's female members to boycott the social network every Monday until the company adds at least one woman to its board.
"Facebook has an expression: 'move fast and break something.' I think they should change that to 'move fast and fix something,' and nothing could be more important to fix than the presence of women on and the diversity of their board," said Marie Wilson, founder of the White House Project, an organization that seeks to increase the number of women in business and politics.
Thomas noted that Facebook had declined to let the protesters deliver their petition to the company directly, and instead required them to leave the documents with the building's reception desk. Facebook did not respond to a request for comment.
In an open letter to Facebook's board, the founders of the Face It campaign argued that Facebook's failure to diversify its board ran counter to founder Mark Zuckerberg's professed goal of creating a company that allowed people to "make their voices heard."
"Right now, Facebook has the opportunity to demonstrate that it is not only on the cutting edge of technology, but also at the vanguard of the movement to transform corporate boardrooms," Face it founders Alice Baumgartner and Alice Buttrick wrote. "And so, in the spirit of your own company, we are asking you to add women of all colors to your board before you go public."
Protesters argued that adding a woman to Facebook's board would help the company better serve its users and also encourage more women to pursue careers in tech by offering up female role models in positions of power in Silicon Valley.
"I can imagine a Facebook with women on the board would stop taking down pictures of women breast feeding and might start taking down pages that threaten rape and sexual assault against women. And now it's the opposite," said Shelby Knox, a self-described feminist activist. "It's different to be a woman than a man online. How the Internet treats us, how we use the Internet is very different."
When asked to explain the dearth of female board members, Zuckerberg has said that he seeks out individuals who can serve the company best and that he is blind to gender.
"I'm going to find people who are helpful, and I don't particularly care what gender they are or what company they are. I'm not filling the board with check boxes," Zuckerberg told the New Yorker in July of last year.
But protesters countered that this is an outdated excuse that holds little strength in a world where there's an abundance of qualified female candidates, and said that the lack of diversity is particularly alarming given Facebook's popularity among women.
"Zuckerberg is using the same lame excuse CEOs for the past century have used," said Sonia Ossorio, president of the National Organization for Women, a feminist advocacy group. "This is one of the most innovative new companies and it's operating like a company from the last century."
Support HuffPost
The Stakes Have Never Been Higher
Related
Popular in the Community