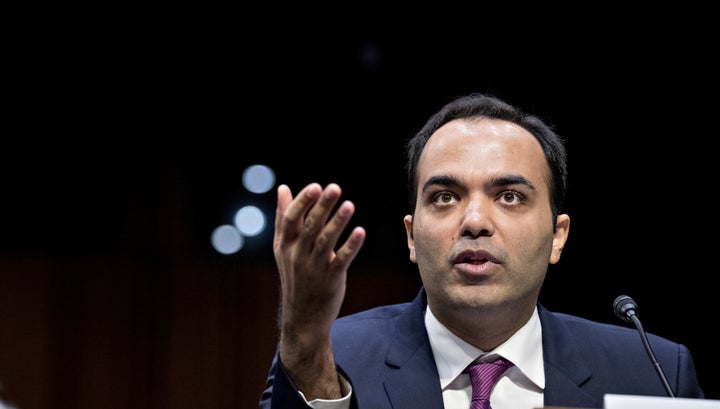 Newly sworn-in Federal Trade Commissioner Rohit Chopra called for his agency to be an "aggressive and effective enforcer" in a memo to staff Monday taking aim at "recidivist" corporations ― what appears to be a not-so-subtle nod to the commission's ongoing investigation into Facebook.
"FTC orders are not suggestions," Chopra wrote. "Scofflaws who flout our orders must face severe consequences ― irrespective of whether they are small-time scammers or sophisticated corporations." 
In 2011, Facebook settled FTC charges that it had deceived users by telling them they could keep their data private, only to repeatedly allow that data to be shared and made public. The tech giant agreed to new policies to prevent future deception and privacy violations, but in March, a whistleblower revealed that Facebook had allowed the international political operative firm Cambridge Analytica to access data from millions of users without their consent.  
The FTC is now investigating whether that breach constitutes a violation of the 2011 settlement, which carries the force of law. If Facebook failed to comply with terms of the 2011 order, the potential financial liabilities are enormous ― up to $40,000 per user, per day of the violation ― which could add up to billions or even trillions of dollars in the case of the Cambridge Analytica debacle.
Chopra, who took office on May 2, is one of two Democratic commissioners on the five-member FTC. His memo, forwarded to HuffPost, did not mention Facebook by name, but the implications for the social media platform were obvious. 
In his memo, Chopra said the FTC should be thinking about "remedies" above and beyond monetary penalties for "recidivist" companies.  
"The FTC should hold individual executives accountable for order violations in which they participated, even if these individuals were not named in the original orders," Chopra wrote, adding that when companies violate FTC orders, the commission should consider "outright bans on specific business practices," "dismissal of senior executives and board members," divestiture of rogue operating units and clawbacks of executive compensation.
Chopra can't single-handedly impose penalties as a lone commissioner. But he can bring public pressure against reluctant commissioners ― who have thus far been quiet about the Facebook case ― and offer internal support to agency investigators seeking a tough line against repeat offenders.
His memo also criticized the approach federal agencies took to corporate crime at big banks during the Obama years, arguing that the Securities and Exchange Commission and the Federal Reserve let financial institutions off too easy.
"The Commission must not take a similar path," Chopra warned. "When companies violate orders, this is usually the result of serious management dysfunction, a calculated risk that the payoff of skirting the law is worth the expected consequences, or both."
On Monday morning, Facebook announced it had suspended 200 apps from its platform as part of a company-wide audit. In its press release, Facebook pointed to third-party responsibility for privacy debacles, saying that the company is "investing heavily" in going after "apps that may have misused people's Facebook data."
Facebook's dominant position in social networking and digital advertising markets has drawn the attention of antitrust advocates, including the Open Markets Institute, which in October called on the FTC to "assess the hazards that this dominance poses to commerce and competition, basic democratic institutions, and national security."
Calling all HuffPost superfans!
Sign up for membership to become a founding member and help shape HuffPost's next chapter
BEFORE YOU GO